Charles Pic warns new 18-inch Pirellis would be a big challenge for the F1 teams
Lotus driver becomes first driver to test radical new prototype at Silverstone
By Pete Gill at Silverstone
Last Updated: 10/07/14 10:13am
Charles Pic has warned that the F1 teams face a "big challenge" if Pirelli push forward their plans to introduce 18-inch tyres.
The Frenchman became the first driver to run the new compounds on the second and final day of testing at Silverstone on Wednesday. The Lotus driver ran the radical prototypes for a total of 14 laps with his fastest lap almost ten seconds off the pace before reverting to a conventional 13-inch set late in the afternoon.
But while Pic played down the significance of his lap times, explaining that his task had been data-gathering rather than putting the experimental rubber through its paces, he was adamant that the introduction of 18-inch tyres – which Pirelli have indicated could happen as early as 2016 - will cause both teams and drivers a sizeable headache.
"If we go one day to this sort of tyre it would be a big challenge for the teams because they will need to build a completely new car around it and it will be a challenge for the drivers because they are different," Pic told reporters at the close of play.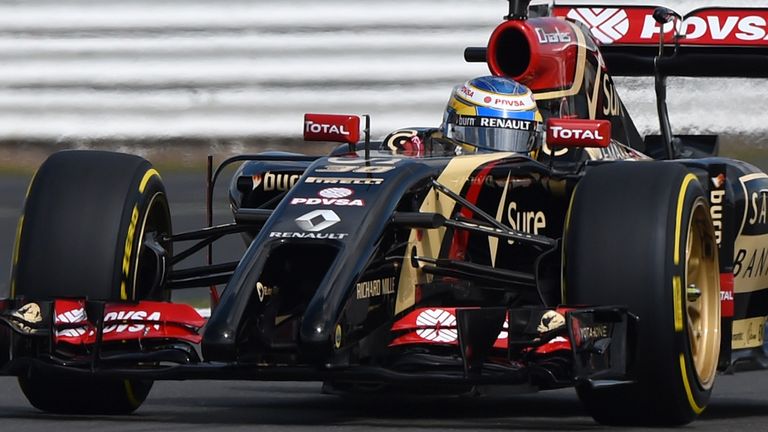 "They are very different. The overall grip was very low and we were off the pace mainly because the car is built for the type of tyre we are racing now rather than the 18-inch tyre and the car is not working well around this tyre. And as this was the first time we ran the tyres, Pirelli were very conservative with pressure and the pace they asked for because the main goal was to give data."
Expanding on the characteristics of the new tyres, Pic added: "They are more reactive and more nervous and then, on top of that, you lose a lot of aero. It's not even as if you are in the Monza configuration – it is even less than that."
However, Pic admitted that he was surprised by the size of the tyres when they were unveiled ahead of his first run on Wednesday.
"Honestly, I thought they were too big but then it was the first time that I had seen them!"
What's in a tyre? Pirelli explain their thinking
'The new tyres were designed and built in accordance with Pirelli's premium strategy in Milan. The key technical advantage of an 18-inch tyre is a stiffer sidewall that helps maintain the structural rigidity of the tyre and also makes it easier for the tyre to maintain a constant pressure – as there is less actual air inside the tyre. The new tyre is physically bigger, which makes it much more relevant to the Ultra High Performance tyres that are seen on the road, leading to greater technology transfer.
'The new tyres tested have the same width as the current 13-inch tyres (245mm at the front and 325mm at the rear) but a diameter that is bigger by 30mm. The weight is approximately the same as the 13-inch tyre, because although the diameter is bigger, there is a smaller sidewall. The total weight, including the rim, is around 4 kilograms heavier.'