Grosjean unhappy with Schumi
Romain Grosjean has accused Michael Schumacher of not respecting blue flags and costing him a second-place finish in the Hungarian GP.
Last Updated: 30/07/12 9:32am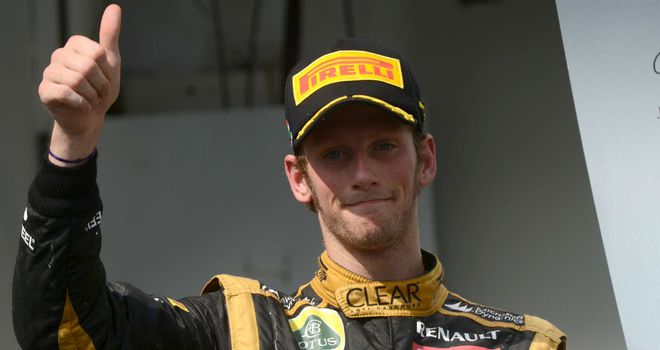 Romain Grosjean has accused Michael Schumacher of not respecting blue flags in the Hungarian GP, the Frenchman believing time he spent behind the lapped German cost him second place to team-mate Kimi Raikkonen.
Grosjean, having followed but been unable to find a way past race leader Lewis Hamilton during the second stint, stopped earlier than his McLaren rival at the second stops in a bid to attempt the undercut. But despite having an additional lap on fresh tyres he was unable to bridge the gap.
With his team-mate Raikkonen then not pitting for a further six laps, the Finn exited his own final pit stop side-by-side with Grosjean and was able to hold the inside line to take the position at the first corner, leaving his younger stable-mate to settle for third.
Speaking to Sky Sports F1 after claiming his third podium finish in F1, Grosjean admitted it had been a little disappointing to not at least finish as runner-up to Hamilton and suggested seven-times Champion Schumacher, who was running a lap down amid a disastrous race, had cost him a second and a half in those crucial laps around the pit stops by not moving over to be lapped.
"It was a great race fighting for the win with Lewis for a long time in the race," Grosjean told Natalie Pinkham. "It's very good to be second and third on the podium but as you can imagine when you fight for the win and finish third you're not happy.
"We chose to stop early in the second stint, tried to stop Lewis at the pit stop and then I get stuck behind Alonso a little bit and Schumacher didn't let me past on the blue flags. I'm not happy at all to be honest, it cost me one and a half seconds and when you see how close it was with Kimi at the pit exit you can imagine [the difference it made].
"Well this is racing and it's good for the team that we have two cars on the podium and let's bring the upgrade in Belgium and there we can maybe get our first win."
Speaking in Lotus's later press release, Grosjean added that during the opening two stints it had been problematic to try and get right behind Hamilton to even attempt a pass and admits that when the team did have a chance to make up some ground at the first pit stops they ran into their own problems anyway.
"It's really difficult to follow another car here, to follow them close and not make any mistakes. When I was behind Lewis [Hamilton] I was sometimes losing a little bit the grip from my front tyres, so I would fall back and then have to recover a little bit," he said.
"The second pit stop was ok, but the first was a disaster and we lost the chance to make the jump on strategy. I think that was the only key today because overtaking is really too difficult here."