Senna in positive mood
Bruno Senna is in buoyant frame of mind heading into Formula 1's summer break after a strong performance at the Hungarian Grand Prix.
By Mike Wise in Budapest
Last Updated: 30/07/12 4:55pm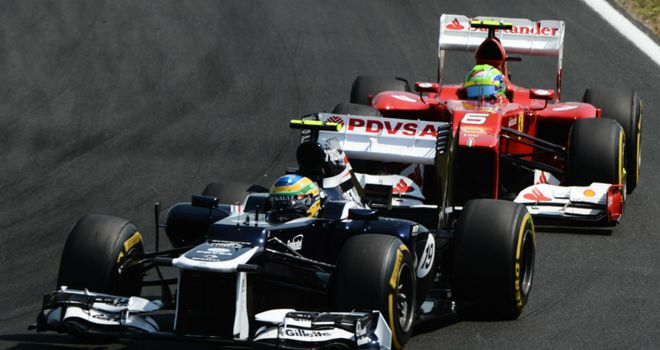 Bruno Senna is in buoyant frame of mind heading into Formula 1's summer break after a strong performance at the Hungarian Grand Prix.
The Brazilian finished in seventh place on Sunday after spending the race trading places with the likes of Jenson Button and Mark Webber.
Unlike Senna, both the latter pair adopted three-stop strategies and while Button eventually finished ahead of him, his own race suffered when McLaren's decision to change tactics placed him behind the Williams driver.
The fast-starting Webber, meanwhile, moved past Senna on the opening lap but fell behind once more after making his third stop 14 laps from the chequered flag.
"I think we had a strong weekend overall - practice, qualifying and the race. It's important to keep on pushing like that. Definitely, if I'd come out of this weekend with a bad result or poor pace, you come into the break always with something in the back of your mind," said Senna.
"I've nothing to worry about now. I think we have a strong performance and I'm learning; I'm improving and it's going to be a case of chipping away.
"Hopefully in the second half of the season, I have so much more experience than I had in the previous part and everything helps. Every little detail helps when you're fighting for a tenth and a half and eighth position."
Although Senna, who qualified ninth, failed to make the sort of flyer off the grid Webber managed, he still passed Ferrari's Felipe Massa at the first corner and even challenged Championship leader Fernando Alonso briefly.
However, by Turn 2 the 28-year-old decided that discretion was the better part of valour.
"It was a good start. I think I was lucky because we had an aborted start; everybody had to keep their engine temperatures low and I managed to do just that," Senna explained.
"Then I put some temperature on the tyres at the end. My start was as good as a normal start and I think other people struggled with that because of their temperatures.
"(In Turn 2) I was overcautious and I lost a position to Mark. But after a good start like this I didn't want to spoil things by being in the middle of someone else's confusion - the Lotus (Kimi Raikkonen) and Alonso were fighting hard into Turn 2."
Given such a competitive season, Senna knows he needs more qualifying performances like Saturday's if he is to score points regularly.
With Williams protégé Valtteri Bottas waiting in the wings, a consistent string of results would certainly be welcome.
Even so Senna, who has contested part-seasons for both HRT and Renault/Lotus, made a point of highlighting his own relative inexperience.
"If you're very honest, in the first season - a proper first season like this - you're going to have a few ups and downs. If you look at other drivers' careers, you're going to see ups and downs in the first season," he added.
"Everyone needs an opportunity to grow up - and this is me. I need an opportunity to grow up and develop with the team.
"It's probably the hardest season in Formula 1 for God knows how many years. You're fighting for hundredths of a second to make it into the top 10.
"As I've said before, nailing qualifying will be the key to making sure that I'm going to stay for next year and hopefully the next few years."