Marussia hoping to retain both Jules Bianchi and Max Chilton for second seasons in 2014
John Booth also keen for earlier driver confirmations than this year
By James Galloway
Last Updated: 30/07/13 4:14pm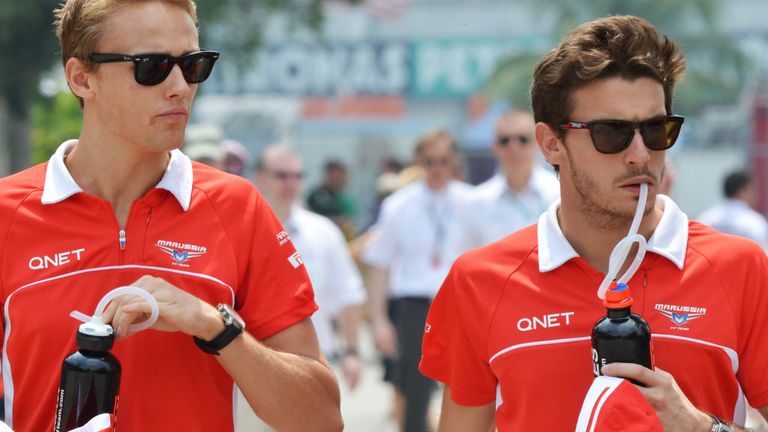 The Banbury-based outfit only definitively confirmed their all-rookie line-up with two days of pre-season testing remaining after Ferrari protégé Bianchi was drafted in to replace Luiz Razia after the Brazilian's sponsorship failed to materialise, Chilton's place having already been secured before Christmas.
Team Principal Booth says both Bianchi and Chilton have since impressed the team with their lack of mistakes over the first half of the season and asked whether the pair were doing enough to secure their seats for another year, Booth replied: "Absolutely.
"I'd like to keep them both for next year. At the moment it depends on a variety of (contract) options and option expires and things like that.
"But we don't intend to leave our decision as late as we did for this year. We're hoping to be a bit more comfortable for this year."
Having gone into a season without the vast experience of Timo Glock for the first time, there was uncertainty over how Marussia's youthful line-up would fair but Booth feels the team's boldness has been vindicated.
"We took a massive gamble with two race novices," he acknowledged. "They both had a fair amount of mileage in F1 cars, so it wasn't like they were novices to Formula 1.
"But it's been really impressive as to how few mistakes they've both made.
"With two rookies it could have finished in a right old mess, but you can count on one hand the mistakes made between them."
Next season will be Marussia's first as a Ferrari engine customer after the Banbury outfit signed a long-term deal to use the Scuderia's engines and full powertrain from the start of F1's new turbo era.
Given he is a member of the Ferrari Driver Academy, it has been suggested that the new agreement will assure Bianchi's future at the team but Booth insisted during the Hungarian GP weekend that the two issues were not interconnected.
"First of all, with Jules, he is a Ferrari young driver but the two deals are totally separate," Booth said. "The powertrain deal has no bearing on Jules' future at all."