Marussia have debuted their new MR03 on day three of the first pre-season test
Chilton finally takes to the track in Jerez
By Mike Wise
Last Updated: 04/02/14 9:16am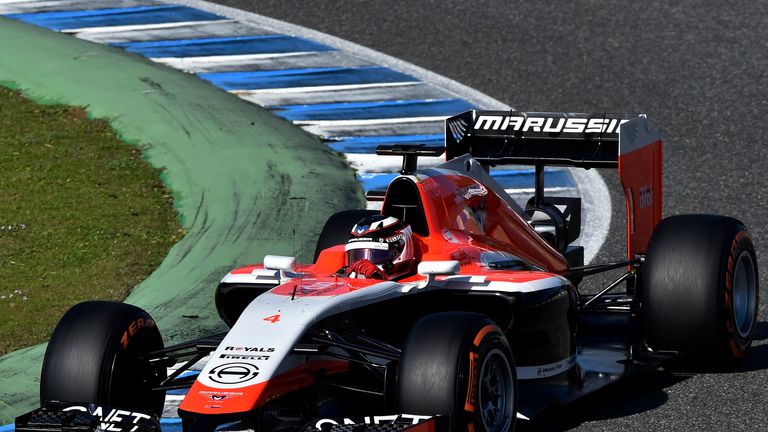 Following last-minute work at their Banbury base, the MR03 finally arrived in southern Spain on Wednesday afternoon. One day later and Max Chilton took to the 4.428km track on day three of F1's first pre-season test to give the car its first shakedown run.
The Ferrari-powered MR03 is Marussia's response to the sport's radical overhaul and although the cost and timing of the switch to turbo hybrid power is something that Team Principal John Booth has spoken out against in the past, he said the technical challenge - work on the car started two years ago - is one they have relished.
"As we saw in the step from 2012 to 2013, we have young but experienced and extremely talented technical and engineering groups within the Marussia F1 Team, who have contributed enormously to our rate of progression over the past couple of years," he said.
"To have designed a car that is true to the concept first conceived in early 2012, despite the integration of an entirely new powertrain and whilst pushing hard to attain our 2013 Constructors' Championship objective, is a testament to the extent to which we have matured as a technical organisation."
According to Marussia's press statement, 'of the 11,212 components that made up the MR02, only a handful of assemblies have been carried over to the MR03'.
Moreover, they claim the car is innovative in its cooling capacity - a particularly important area on turbocharged cars and something all teams have cited as a particular challenge.
"The car has been manufactured and finished to a very high standard, whilst achieving our most significant weight-saving targets to date and, importantly, with a crucial eye towards maintaining our excellent record of reliability," Chief Designer John McQuilliam said.
"Without doubt, the greatest design challenge has been in terms of cooling, yet this is one of a few areas where we are not only very pleased with the design response, but also the degree of innovation we have achieved with our solution.
"All-new front and rear suspension layouts are a product of the new aerodynamic regulations placing greater emphasis on mechanical performance, with the mechanical systems now having far greater real road relevance."
The Sky Sports F1 Online team will be providing live commentary of all three winter tests, with live updates from trackside also on Sky Sports News.