Monisha Kaltenborn says Sauber have a good chance of overtaking Force India
Swiss team's recent rusurgence leaves them 17 points behind with four races left
By Mike Wise
Last Updated: 16/10/13 11:11am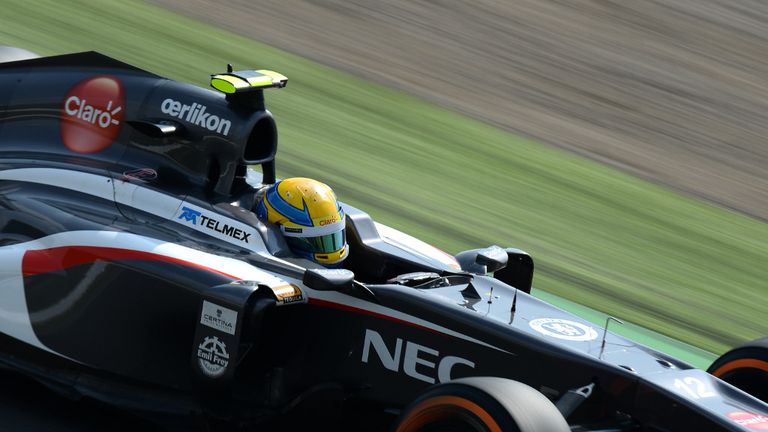 The Team Principal was speaking after the Japanese Grand Prix, in which Sauber scored their first double points finish of the season. Nico Hulkenberg finished sixth at Suzuka, one place ahead of team-mate Esteban Gutierrez.
Sunday's result means that Sauber stand 17 points behind Force India with four grands prix remaining. Over the last four races, the Swiss team's resurgence has seen them gain 37 points on their nearest rivals.
"I think we still have room to improve and it's something which, if we get our act together, if we don't make mistakes, if we continue to be as focused as we are, we have good chances to maybe go further up on our own merit," Kaltenborn said.
"It's equally important to look behind as well as because you don't need much to go wrong in one or two races and suddenly maybe you're somewhere back again where you don't want to be."
Kaltenborn also praised Gutierrez, who earned the first points finish of his career on Sunday after a difficult baptism in Formula 1.
"We've seen him improving over the last few races and he's had a really rough start to the season. But I think after the last race, you could just feel that, with his qualifying and his race pace, he is just there," she said.
"It just takes that little bit more for something to explode or open up in him and that's what's happened now.
"It's very important for him because he's been criticised quite a lot. It's of course important for us, not only that we can continue to work with him the way we have - that was the right way, the right approach we took with him."
The 22-year-old Mexican has been knocking on the door of a points finish for a couple of races, having qualified in the top ten in Singapore and Korea.
According to Sauber's Head of Track Engineering Tom McCullough, Gutierrez has not only benefitted from their recent improvement but his own gains have also helped Hulkenberg, who qualified seventh in Japan.
"With Esteban improving, it starts to push the team. Because if your lead driver has seven-tenths on your number two driver all the time, you always think he's done a good job. But take an example: in Q2, Nico looked at Esteban's data in Spoon Curve because Esteban was a tenth quicker," McCullough explained.
"So he went out and said in the debrief, 'I replicated my lap everywhere plus I used that little bit from Esteban and that's why I went faster'. That pushes a team as well and it's important.
"We started with a rookie and an experienced driver. The rookie has developed and improved, therefore it lifts the level of the team as well."