Esteban Gutierrez aiming to become Sauber's team leader during 2014 F1 season
Young Mexican looking to take on more responsibility in 2014
By James Galloway
Last Updated: 05/02/14 9:16am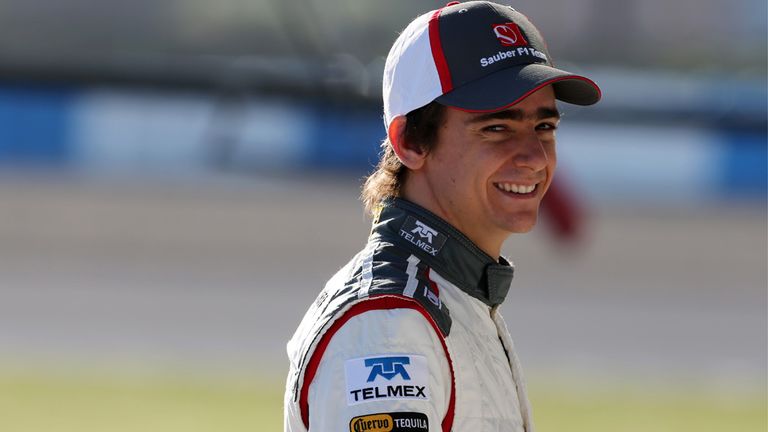 The 22-year-old Mexican only had his retention for the new season confirmed just before Christmas in the wake of a challenging maiden year in the sport, in which he was outscored by his highly-regarded team-mate Nico Hulkenberg by 51 points to six.
Gutierrez ongoing presence represents the continuity in Sauber's driver line-up after the Swiss midfield outfit turned to the vastly experienced Adrian Sutil following Hulkenberg's return to Force India.
But although Sutil has the experience of seven F1 seasons and nearly a century of starts more than Gutierriez to draw on in Sauber's new intra-team battle, the younger charger doesn't feel overawed by the challenge ahead.
"With the experience I have I want to be a team leader," Gutierrez declared at Jerez.
"I want to fulfil my expectations. At the moment it's very tricky to say precise expectations because we don't know as a team where we are. It's very difficult to compare and very difficult to bring up a specific goal. But overall I want to make 2014 very successful for the team and also for myself."
Gutierrez added that he was looking to be Sauber's reference point both on and off the circuit.
"He [Sutil] has a lot of experience but I'm going to go for it," the Mexican said.
"I'm going to try and be a team leader not only in the results but also on the human part so we can have the right the evolution that we're expecting."
After what he admits was a "very stressful" December while he awaited news on his future, Gutierrez says he spent the weeks in the lead up to the Jerez test immersing himself in the complexities of F1's new era.
"The winter has been a lot about receiving information and going through it and trying to understand the systems," he said.
"Everything was so late to come together that even the engineers sometimes have just something that they do not know what to answer because it's so complex.
"[Gutierrez was in the factory] some days in December, some days in the beginning of January. I was at the workshop all last week [pre-Jerez], every day, so there was plenty of time to catch up on everything - and even now we have more things to learn."
The Sky Sports F1 Online team will be providing live commentary of all three winter tests with live updates from trackside also on Sky Sports News. The next test, in Bahrain, begins on Wednesday February 19.