Valtteri Bottas looking forward to working with 'good reference' Felipe Massa in 2014
Finn also "confident it will be a better year" for Williams
By James Galloway
Last Updated: 05/12/13 3:22pm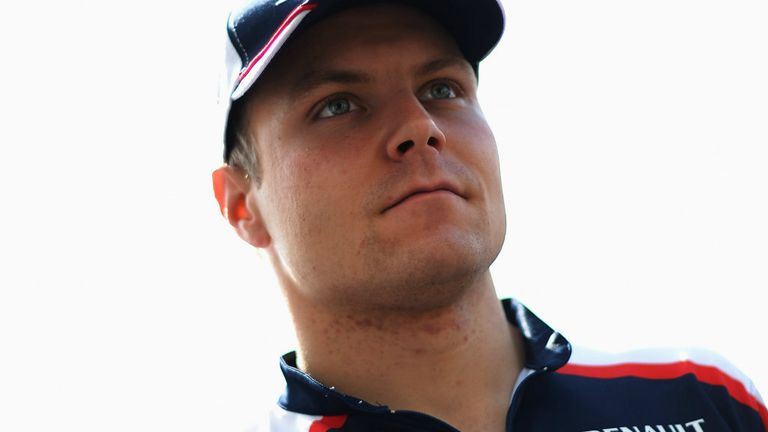 Although Williams' 2013 travails meant Bottas had scant opportunity to shine in his first year of F1, the highly-regarded Finn still won his intra-team duel with Maldonado, outqualifying the 2012 Spanish GP victor 12-7 and outscoring him by four points to one.
With Maldonado nonetheless moving up the grid to Lotus for 2014, Bottas will be joined next season by Ferrari stalwart Felipe Massa, the winner of 11 grands prix and past runner-up in the Drivers' Championship.
And although the Brazilian has an additional decade's worth of F1 experience to draw on, the 24-year-old Bottas admits he is "very much looking forward to it, it's a good challenge for me".
"At the same time for me and for the team, his experience is a very good thing. He's a nice guy and he's ready to work hard, to be a team player so I'm very much looking forward to it. I really can't wait for next season."
Bottas is also fully aware that, should he also manage to outperform a driver of Massa's calibre, then it will only bode well for his career prospects.
"It is a very good reference. He's got a lot of experience and if I manage to be competitive against him it's a good thing for me as well," he added.
"So we will see next year what's going to happen."
Bottas's maiden year at the top level was illuminated by two standout moments: his brilliant run to third on the grid in the rain-hit qualifying hour at the Canadian GP and his U.S. GP weekend, when he qualified in the top ten again and then finished eighth in the race.
"From my side it was a good season. It's still my rookie season and I've learnt a lot - that's the main thing," he reflected.
"But also being able to outperform my team-mate in qualifying and also in the points, I'm very happy about that because that was always my goal. It wasn't easy but that was the goal. I think I need to be happy but I still feel there is more to come; I'm still getting better and better."
However, the harsh reality is that Bottas's chances of significantly improving on his four-point haul from 2013 will largely rest on whether Williams, after slipping to ninth in the Constructors' Championship this year, design a more competitive car for the new season.
But boosted by the switch to Mercedes engines - which many observers expect to prove the most competitive turbo power unit - and a mid-season engineering reshuffle which saw the arrival of past title winner Pat Symonds, Bottas can already see some green shoots of recovery.
"I'm confident it will be a better year. I really think the new rules, it's a good chance for us to catch up and I think we have moved in the right direction all the time now with how the team is working and especially at the factory," the former GP3 Champion explained.
"I'm sure it will look better but how much we will really need to see. We can't get too excited in the winter tests like what happened this year a bit I think. So we really need to keep pushing hard in all the areas of the car and we'll see [how it goes]."