Marussia new boy Luiz Razia aware he and Max Chilton have some 'tough' times ahead
Brazilian rookie says he has work to do to catch up
By James Galloway at Jerez
Last Updated: 13/02/13 11:15am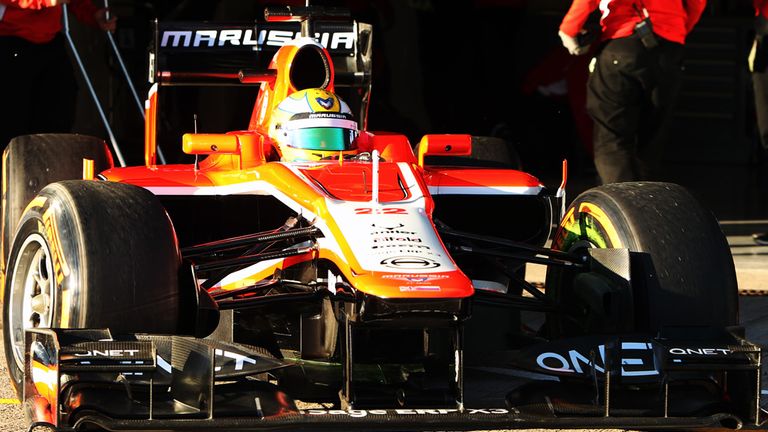 The Banbury-based team confirmed on the eve of the second day of testing at Jerez that 23-year-old Razia had joined to partner 21-year-old Chilton in their race line-up for the forthcoming campaign, with the new arrival immediately pressed into service in the new MR02 on Wednesday.
Marussia's all-rookie line-up will be the first in F1 since HRT paired Bruno Senna and Karun Chandhok together for their debut years in 2010, and Razia acknowledges both he and Chilton are on a steep learning curve.
"For sure for the team it was a tough decision also, and for us it's going to be a tough job," the Brazilian replied when asked about the team pairing two rookies together.
"So I think we just need to get together and really work through all the difficulties we have and eventually come up with good stuff, good work and try to make the most of it.
"It's going to difficult for me and Chilton obviously because there's a lot of circuits we don't know and a lot of stuff is new to us, so we need to get on a rhythm. But eventually GP2 drivers, normally, get in a rhythm quite quick - so I hope so for myself as well."
He added: "We're going to have some tough times, but not problems."
With the confirmation of his promotion to a full-time F1 drive coming little over a month before the new season, Razia confessed that "I need to work hard to catch up with everybody" after a winter of uncertainty over his future.
"It was a very hard winter for me because I had to keep my motivation to be training more than 17 hours a week and still being in contact with the teams to finally get an agreement," last season's GP2 Series runner-up added.
"But it doesn't really matter anymore now, the most important things are those that will bring me forward, and now this is what I'm going to focus on."
Razia's first day in the new Marussia was ultimately curtailed just before lunchtime when an engine problem ground his MR02 to a halt on the pitstraight.
Up until then the Brazilian had completed 31 laps, with a best time of 1:23.537, and says his early acclimatisation to the car and its functions had gone well.
"The morning was pretty well. We started to test some stuff and I started to get used to the functions on the steering and some tyre and baseline evaluations," Razia explained.
"It was going quite good and then eventually we had a problem with the engine and we had to stop. That caused a lot of problems and we were quite late and couldn't get back on the track unfortunately.
"But tomorrow will be fine."