Sky Sports News sources: Luiz Razia in danger of losing his Marussia seat
Team said to be ¿considering all options'
By Mike Wise in Barcelona
Last Updated: 28/02/13 4:23pm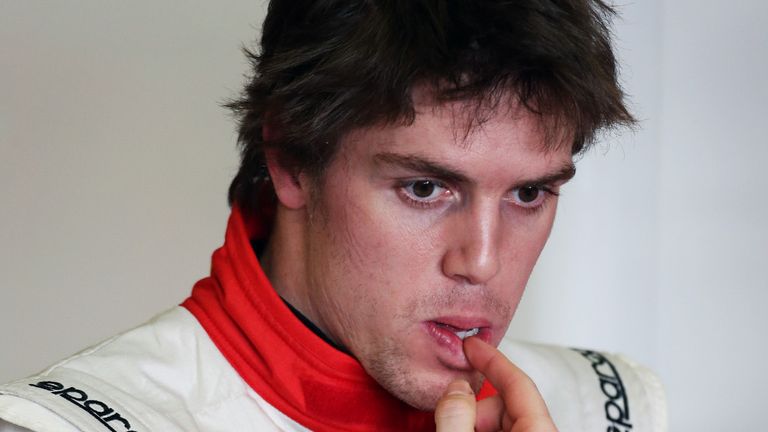 Having missed last week's running at the Circuit de Catalunya, the Brazilian was again sidelined on day one of the final test which started on Thursday.
Much like last week, Razia had been nominated to take the wheel of the MR02 but it was Max Chilton who took to the track instead in wet conditions.
The Briton drove on all four days last week, when rumours first surfaced that all is not well with Razia - or, rather, all is not well with the 23-year-old's promised financial backing.
With Marussia offering no word, rumours are spreading that Razia's days might already be numbered. So far, he has had just two days in their MR02 having been announced as a driver during the first pre-season test at Jerez.
Speaking live on day one, Sky Sports News' Rachel Brookes said: "Our sources have told us that Razia's future is unknown at the moment and we understand that Marussia are considering all options at the moment."
Among those options could be Heikki Kovalainen. Speaking as part of Sky Sports' live coverage of the test, which also started on Thursday, Ted Kravitz said: "The rumours today in the paddock are that Marussia are considering Heikki Kovalainen as a standby emergency driver for the first race in Melbourne and maybe the first few flyaway races.
"It would be quite a turnaround to get another driver change - we thought with (Force India's Adrian) Sutil the grid was completed, but we might have Kovalainen in for Razia."
Razia, last season's GP2 runner-up, was drafted in to replace Timo Glock, who departed in January. Marussia made no secret at the time that finances were to blame for their decision to part ways with the experienced German.
Now rather more coy, Marussia are running their test programme on a day-to-day basis and so could be in a position to issue a definitive statement on Friday.
Then again, it could quite conceivably be the case that rookie Chilton embarks on his eighth full day behind the wheel.
"As it stands, with have a contract with Luiz and, as it stands, there is no change to that. We have to do what is best for the whole team," Marussia's Graeme Lowdon told Sky Sports F1.
"We have to put the right people at the right time in the car and that's what you are seeing at the moment"
When asked if "the right people at the right time" may mean Razia is not in the car in Melbourne he added: "It is what it is, as far as decisions that have been made and the decisions we will continue to make, they are the right decisions for the team.
"That will be reflected in everything we do - there is no change in contractual position at all. If there are changes it will be for the good of the team."