Vijay Mallya says Force India need a better understanding of Pirelli's new tyres
Team boss insists they can overcome slump after summer break
By Mike Wise
Last Updated: 02/08/13 12:41pm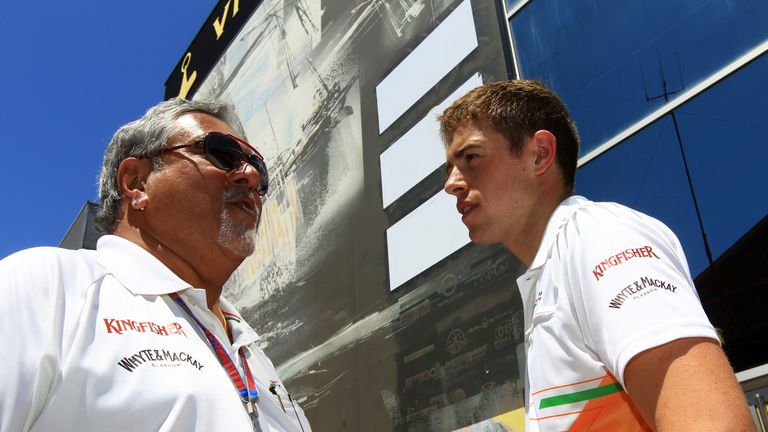 The Silverstone-based team's recent slump continued in Hungary, where they failed to score points for the second time in as many races. In the event, Paul di Resta and Adrian Sutil retired after their cars both suffered hydraulic problems but, as was the case in Germany, they had failed to show the sort of pace they previously managed.
In contrast, McLaren picked up a double points finish for the second straight race and have closed to within two points of Force India and fifth place in the constructors' standings.
Having made their best-ever start to a season, Mallya admitted that his team have been thrown off-kilter by the revised tyre construction, which was made for safety reasons after the series of blowouts at the British GP in June.
"We've spent a lot of time, energy and resource understanding these tyres, which have played a very important part this whole season," Mallya said after the Hungarian GP.
"We obviously were on top of it, because that is reflected in our performance. Halfway through, we're still ahead of McLaren, we're still fifth in the constructors'. That's because of our performance in the first half and the points we've scored.
"The trouble in Germany as well as here, after the change in the tyres, is because the drivers have not been as comfortable. In Budapest, particularly Paul has been uncomfortable with the tyres all weekend; it has shown in his performance and his timing.
"Adrian, on the other hand, has got the tyres to work for him. He qualified in 11th spot and would have made Q3 by 0.02s [less lap time] - which is unlucky, but it happens. It was by the smallest of margins.
"The way he was running [in the race], had he not suffered that unfortunate hydraulic failure, I would have predicted that he would have finished in the points.
"It's not right to admonish the car. The car is fine. It's just that the tyre change needs better understanding. It's working for Adrian at times and not working for Paul. We need to just smooth this out, get a better understanding of the tyres and move forward."
Citing Force India's early-season form as proof that they can turn things around, Mallya is hopeful the team will head to Spa with fresh minds.
"As it has turned out in the last few years, we haven't had the kind of performance we'd like in Hungary. But as we have had very good performance in Spa, I think a better understanding of the tyres and the fact that we've done well in strategy on that track should stand us in good stead," he said.
Mallya added: "We've shown it. There is no better answer than performance, which is there.
"Sure McLaren has improved; we can also improve. It's all part of the game."