What's new for Formula 1 in 2013?
The sport's technical regulations may have altered little over the winter but plenty else has changed ahead of the new season
By James Galloway
Last Updated: 13/03/13 2:00pm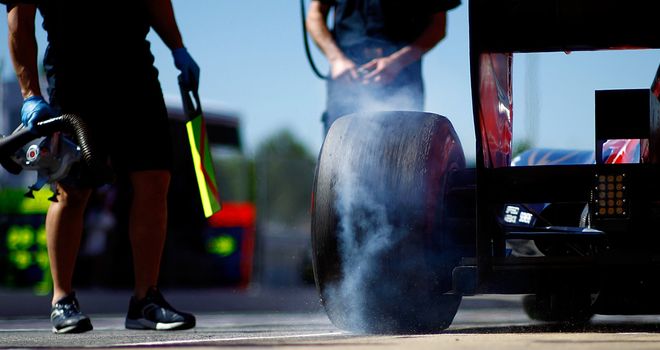 New drivers
While the wholesale shake-up predicted 12 months ago for 2013 at the top end of the grid hasn't quite materialised, the second half of the field has witnessed significant changes over the winter.
Of the 22 seats left on the grid following the demise of HRT, ten have changed hands since the end of last season. The most high profile switches have, of course, come at Mercedes and McLaren, with Lewis Hamilton's transfer to the Silver Arrows offering Sergio Perez his big break at a top team.
Five of the drives, meanwhile, have gone to rookies, with Mexico's Esteban Gutierrez signed by Sauber, Finland's Valtteri Bottas by Williams, Holland's Giedo van der Garde by Caterham and youngsters Max Chilton and Jules Bianchi by Marussia.
Only 11 teams
After fighting manfully against F1 extinction almost from the moment they were granted an official entry back in 2009, time finally ran out for HRT over the winter, leaving just 11 teams, and 22 cars, on the grid for 2013.
While HRT's demise will not cause any groundshaking reverberations, one knock-on effect for the spectacle should be a slightly more exciting Q1 sessions on Saturdays. Although the reduced grid means that six, rather than seven, cars will drop out in Q1 and Q2, should Caterham and Marussia continue to take up position at the back of the field then two drivers, rather than one, from a midfield team will drop out of the first session with them.
One less race
It is certain to be only a temporary reduction in the length of the calendar but the 12-month postponement of the inaugural grand prix in New Jersey means the season has been trimmed back to 19 races for 2013.
While that doesn't change the total duration of the campaign, which again starts in mid-March in Melbourne and finishes in late November in Brazil, it does create two unusually-long three-week gaps between the Canadian and British, and then German and Hungarian, rounds during the traditionally hectic middle segment of the season.
Calendar tweaks
The remaining 19 races largely follow in the same order as in 2012, but as ever, there are one or two alterations. The disappearance of Valencia's European GP means that for only the fifth time in its long history the British GP loses its traditional July slot and is pushed forward to the final weekend in June. The following round in Germany has in turn been moved forward by a fortnight, thus creating a back-to-back with Silverstone.
Come August and what was a five-week summer break in 2012 has been cut back to the more traditional four, with the Spa event on August 25 no longer on consecutive weekends with Monza.
The other noteworthy change sees Japan and Korea swap places, with the latter now first up on October 6.
Vanity panels
Boxer's noses, stepped noses, platypus noses, call them what you like, but their prominence on the vast majority of the 2012 cars caused more than a few complaints from those who like their F1 machines pretty as well as fast.
The FIA were aware of the uproar and have acted to ensure the 2013 models aren't so aesthetically challenged. While the regulation that requires the front part of a car's nose to be no more than 55cm high remains in place, teams are now allowed, should they wish, to fit a laminate 'modesty panel' to smooth out the nose's appearance. Not all teams had taken the option by the end of testing, with the additional weight of the piece considered in some quarters an unhelpful addition.
New car numbers
While there's no change at Number One for the third consecutive season, interesting car number changes for 2013 to note are Lewis Hamilton, who takes ten for his first season at Mercedes with new team-mate Nico Rosberg at nine, and Sergio Perez, who will drive with number six on his MP4-28. Fernando Alonso will drive car number three, while British rookie Max Chilton takes number twenty-three.
New tyres
No, we don't mean that Pirelli have departed. They are still here - very much so - and their mantra to 'spice up the show' is still in place. To that end, the Italian suppliers have introduced softer compounds across their range of four dry-weather tyres (supersoft, soft, medium and hard) in 2013 and have also altered their construction.
The aim is to guarantee at least two pitstops per race but also provide a wider operating window - something that proved a particular headache for teams and drivers last season. Also, the hard tyre will be marked with an orange stripe rather than silver.
No more unlimited DRS
During its first two years of operation the F1 regulations for the use of the Drag Reduction System (DRS) contained several anomalies. Although principally designed as an overtaking aid, drivers could nonetheless activate the moveable rear wing where and when they pleased during both practice and qualifying sessions for a pure lap-time advantage, whereas in races its use was limited to passing moves in one or two prescribed 'zones'.
With safety in mind, the governing body has mandated that DRS can now only be used in the pre-defined 'zones' during every session of a race weekend.
No more Mercedes-style Double DRS
By the end of last season an increasing number of teams were experimenting with variants of the so-called Double DRS system first pioneered by Mercedes on their W03. On their version, slots on the rear wing opened in tandem when the DRS was activated, channelling air through pipes towards the front of the car to stall the front wing for an additional speed boost.
Such a system has now been banned for 2013 to nip any development war in the bud. However, what isn't outlawed is the type of 'passive' F-duct-like system developed, but not raced, by Lotus where air collected through ducts either side of the air box is channelled towards the rear wing for a speed boost even when DRS isn't in use.
No more forcing the issue
The phrase 'force majeure' came to controversial prominence during the course of the 2012 season after Lewis Hamilton's McLaren in Spain, and Sebastian Vettel's Red Bull in Abu Dhabi, ground to a halt at the end of Q3 when their respective teams came aware that their car was about to run out of fuel.
Under the rules as they stood both teams could argue a case of force majeure - i.e. the car stopping for reasons beyond their control - but that phrase has now been deleted from the Sporting Regulations for 2013. It means that should a car not be able to return to the pits under its own steam in a qualifying session then, in addition to having the mandatory one litre of fuel still on board required for a sample, it also must have the same amount of fuel that "would have been consumed to drive back to the pits", determined at the FIA, in order to escape the disqualification sanctions that Hamilton and Vettel suffered.
JG