Sky F1's 2013 predictions
Martin Brundle, Damon Hill, Simon Lazenby, Natalie Pinkham and David Croft look into a fascinating future...
Last Updated: 13/03/13 6:05pm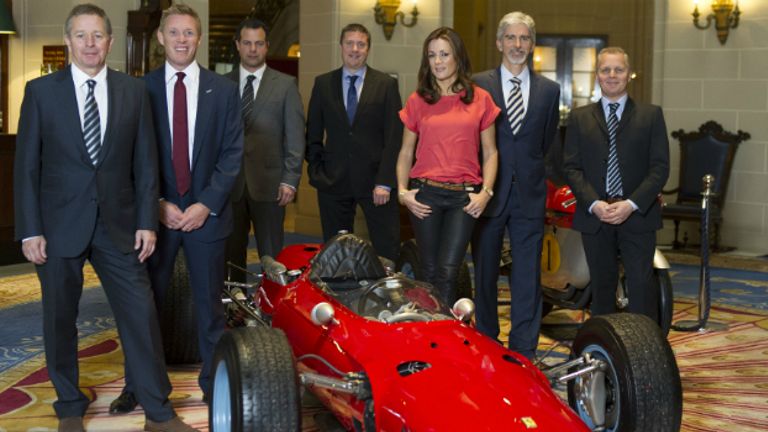 1. Who will win the 2013 Drivers' Championship?
Martin Brundle: "I still think Sebastian Vettel will because I believe Red Bull will develop their car throughout the season, they'll develop their tyres and he's just going from strength to strength."
Damon Hill: "Fernando Alonso."
Simon Lazenby: "Sebastian Vettel."
Natalie Pinkham: "Jenson Button."
David Croft: "Fernando Alonso."
2. Who will win the 2013 Constructors' Championship?
MB: "I see Mark Webber being strong this year as well so I think it will be Red Bull - but I think it will be massively close. I don't think we'll know the answer to one or two t near the end of the season as there are so many strong teams - we thought there would be and I'm delighted to say it looks like that's the case. Mercedes are faster, Lotus are still very strong, Ferrari have got a better car - it's looking very good."
DH: "Ferrari."
SL: "Red Bull."
NP: "McLaren."
DC "Red Bull."
3. Will Lewis Hamilton win a race in 2013?
MB: "Yes, I'll be amazed if he doesn't. Just through his own sheer speed to be honest, and it looks a better car. He could win more than one race."
DH: "Yes."
SL: "Yes - I think maybe two. He seems pretty comfortable in his new surroundings, I think he'll qualify well and once they get on top of tyres I think that grid position will again be vital and once he gets out in front he can manage a race pretty well."
NP: "Yes, I think he'll win three races."
DC: "Yes, two."
4. Which of the five rookies (Esteban Gutierrez, Valtteri Bottas, Giedo van der Garde, Max Chilton, Jules Bianchi) will make the biggest impact?
MB: "Bottas, I would say. I'll think they'll all do a solid job. Gutierrez has got a big challenge at Sauber really. Bottas has been with Williams for a while and has got some reasonable experience. I don't know what his race craft will be like mind you - since GP3 in 2011 he's not raced - so that might be a bit rusty. He ought to be the one of those five to shine ofthough."
DH: "Bottas."
SL: "I think Bottas. Everything points to him being incredibly quick. Indeed, I think both the Williams drivers will perform well. We know that Maldonado's a quick qualifier; I think Bottas will be as well. They rate their chances to go above Force India and Sauber."
NP: "Bottas. I think he's really quick and spot on in terms of mindset for being an F1 driver. He's focused, doesn't give much away, is very athletic and has incredible reaction times. I'd love to see Max Chilton make an incredible impact as well."
DC: "Bottas."
5. Which team will make the biggest improvement over 2013?
MB: "I think that will probably be Marussia in terms of relative pace, closely followed by Mercedes I wouldn't be surprised - although we mustn't forget Mercedes actually won a race last year."
DH: "Mercedes."
SL: "Williams - I really do. We went and had lunch with them last week and I thought they seemed very, very confident. They love this year's car."
NP: "Force India...or maybe Sauber? Can I have two?"
DC: "Mercedes."
6. There are seven at present, but how many European races will there still be on the grid in a year's time?
MB: "I think the calendar will increase for 2014. What's under risk in Europe at the moment? In the very short term, I don't see that number changing if I'm honest. You look at some races like Korea for example and you wonder more about them than say Spa or Silverstone. I think if that question was in five years' time I'd be very worried for the European races - I'd say four or five. But in a year's time, I don't think it will change."
SL: "I think they might drop one from Europe but then they'll increase the schedule as a whole by one, so back up to 20."
NP: "I find it very sad that F1 is pulling away from its European roots but it's an inevitability amid the globalisation of the sport and, yes, we may well lose another one."
DC: "The same: seven - Russia counts as Europe!"
7. How many points will Sergio Perez score in his first season at McLaren?
MB: "100."
DH: "90?"
SL: "140."
NP: "I'll say 130."
DC: "He will score 65 points."
8. Who will be on pole in Melbourne?
MB: "Lewis Hamilton."
DH: "Sebastian Vettel."
SL: "Let's go with Lewis. It would be great to see and quite some story."
NP: "Sebastian Vettel."
DC: "Lewis Hamilton."
9. Which three drivers will finish on the podium in Melbourne?
MB: "Alonso, definitely, because he seems to own a spot up there. He has obviously got a permanent lease on one! Who else? Vettel and Button."
DH: "There's usually a wild card but let's go with Button, Hamilton and Webber."
SL: "I don't think there is going to be many massive surprises. I'm going to pick one of each from last year's top three, so I would say Vettel, Alonso, Button - but I don't know which order!"
NP: "I'd really like to see Webber finish on the podium because I think it would be great at his home race as he's never done it before. So I'm going to say Webber, Alonso and Hamilton."
DC: "Alonso, Vettel, Hamilton."
10. Which midfield team - Sauber, Force India, Williams or Toro Rosso - will finish higher in the standings?
MB: "Williams."
DH: "Sauber."
SL: "I think Sauber are ahead of the game at the moment in the midfield teams, but if Williams have a good year then I think it's between those two. Also it depends on which team will give up first and concentrate on 2014 - I think that's going to be a feature of the season."
NP: "I think Sauber will finish at the top of that lot. Hulkenberg will do well for them this year."
DC: "Williams."
11. Will either Caterham or Marussia score their first F1 point?
MB: "Luck of the draw, but Marussia."
DH: "Marussia."
SL: "No. I'd love to see them do it but I think they're too far off it. They came within a couple of places last year but the others will have evolved and I don't think the rules changes are enough to mix it up too much."
NP: "I'd love them to, but I don't know how realistic that is. But what a fairytale it would be for Max Chilton to get Marussia's first point in his rookie year, it would be fantastic."
DC: "No."
12. What will be the surprise or shock of the season?
MB: "I think it might be about personnel in main teams, rather than drivers or on the race track, because I think we're expecting something very close and something unpredictable, so in that regard I don't think it would be a shock."
NP: "If Crofty ever stops talking? That would be a massive shock! Unwelcomed obviously as we'd like to see him continue chatting away in the commentary box."
DC: "If any team can continue to develop to the full extent right up to the final race, because at some point something has to stop in order for 2014 to be catered for. So my shock would be if we get a development race like last year where new parts are being brought to the last race."
13. Which team will be the first to race a Passive Double DRS/F-duct - and will it become the must-have technology of 2013?
MB: "I just sense the Double DRS is a red herring almost. I'm sure if they get it absolutely right on any given day it would make the difference but it strikes me that the potential upside is not great enough to keep spending a lot of time on that, especially if they have to start putting resource into the 2014 car."
NP: "Probably Red Bull."
DC: "Don't know. The jury is still out for me - it helps, but it's difficult to set up."
14. Maldonado or Bottas?
MB: "You'd have to say Maldonado for this year."
SL: "Maldonado, at the moment."
NP: "Bottas because while Maldonado has bursts of brilliance, I think Bottas is more level-headed. He's got a bit of the Kimi about him - he's unruffled. It's kind of the difference between their two national mind-sets; Maldonado's got more of that Latino passion and fire in him and perhaps as a result his form fluctuates a bit more. I think Bottas will be the revelation of the season. "
15. Where will the main focus of the 2013 'silly season' be?
MB: "I think it will be engines for 2014. It will be who uses what engine and will the midfield teams be able to find 20-odd million euros for their power pack. So it's all going to be about that."
SL: "Ferrari. I think if Massa has a poor year I think Hulkenberg will loom large into view. Everyone's talking about it and I think Hulkenberg has manoeuvred himself in three years into a position whereby he's the heir apparent."
DC: "Who gets the second seat at Ferrari? Who gets the second seat at Red Bull? And where's Nico Hulkenberg going?"
16. Will Felipe Massa sustain his late 2012 revival and return to the winner's circle for the first time since Brazil 2008?
MB: "Touch and go. Maybe."
NP: "Yes, I think he could do something special in one of the races. I'd like him too, it would be great."
DC: "No."
17. On how many of the three days of the British GP this year will it rain?
MB: "None! They still haven't got rid of all the water from last year yet! It's going to look like the south of France - blue skies and beautiful sunshine."
SL: "I'm going to say it's going to rain on all three days of the British GP this year as it's the same weekend as Glastonbury - and when Glastonbury's on it always rains, at least in my experience, so it's bound to happen."
NP: "I think we will get one day of rain and two of glorious sunshine!"
DC: "It won't rain at the British Grand Prix and even if it does it doesn't matter because the British GP is bathed in F1 sunshine - and our commentary box is hot whether it rains or shines!"
18. Which GP will see the most overtakes?
MB: "China."
DH: "Canada."
NP: "Well, it just goes to show that these type of questions are so hard to answer - last year we thought that Valencia and Abu Dhabi were going to be boring and look how they turned out! Let's say Brazil this time."
DC: "China."
19. Of the four-driver countries, who will score the most points - the Brits, the Germans, or the French?
MB: "That's dead easy, isn't it? That'll be the Brits."
DH: "The four Brits will score more points."
SL: "I'm going to go with the Brits. Of course it's the Brits!"
NP: "The Brits obviously!"
DC: "Sadly the Germans."
20. Excluding the official press conference, who will be the first driver Sky Sports interviews after the Australian GP?
MB: "It's got to be Max Chilton, hasn't it?"
DH: "Max Chilton."
SL: "Paul di Resta. He's going to have a great start and finish fifth."
NP: "I'd like to interview Mark Webber because I'd like there to be something interesting to say about his home race!"
DC: "I think the first driver we'll get on will be Jenson Button."