Marussia's Jules Bianchi will miss second practice after suffering chassis damage
Frenchman hit the barriers at Degner during Practice One
By William Esler
Last Updated: 12/10/13 12:16pm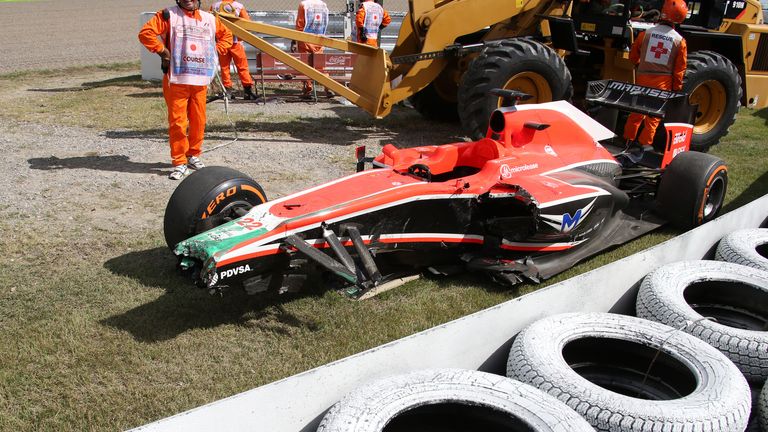 The Frenchman had a moment of oversteer at the tricky right-hander and as he caught the slide, got his elbow stuck between the chassis and the seat, locking the steering wheel and firing him off into the barriers.
"My elbow is a bit painful now, but I am fine," he told Sky Sports F1 after the session.
"I tried, but when I had the oversteer moment my elbow was stuck between the elbow and the seat and that is why I could not turn right anymore because it was blocking on the left side. So it was not so nice, but it happened."
When the team inspected the chassis of his MR02 following its return to the pits, that they would not be able to repair the damage caused in time for the afternoon session.
Instead they will build up their spare chassis and the Frenchman will return to the cockpit on Saturday morning in Practice Three.
"As a consequence of Jules Bianchi's accident in this morning's Free Practice 1 session, his allocated chassis MR02-02 has sustained damage that is repairable but not in sufficient time for him to take part in Free Practice 2," the team said in a statement.
"Jules will therefore sit out this afternoon's session. The spare chassis will be built up in time for Jules to resume running in Free Practice 3 on Saturday morning."