Russian GP organisers miss 2014 application deadline but plan to cite force majeure
Dispute between motorsport body and promoters leads to delay
Last Updated: 08/08/13 12:55pm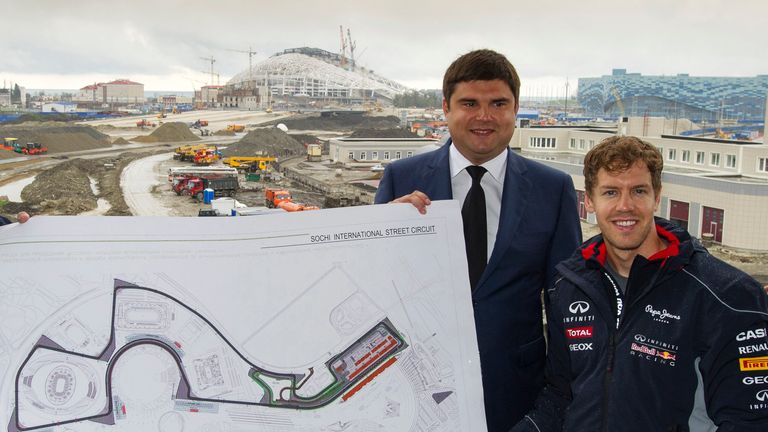 F1's long-awaited first venture into Russia was first announced in late 2010 with a seven-year deal set to start next season on an under-construction circuit around the Winter Olympic Park in the Black Sea resort of Sochi.
Adding uncertainty to the composition of next season's calendar, however, is the emegence of a dispute between the Russian Automobile Federation (RAF) and race promoters, which has contributed to the country's motorsport body missing the July 31 deadline to apply for a place on the calendar.
Local media has reported that the disagreement centres around liability for the costs associated with the track personnel required to staff the event but the RAF hopes to convince the FIA that unforeseen circumstances have been at play in the missed deadline.
"The application to the FIA for submitting the Russian Grand Prix to the 2014 Formula One calendar was not sent in proper time as [promoters] JSC Omega didn't fulfil the necessary conditions," the RAF said in a statement.
"That is, it didn't sign a contract with the Russian Grand Prix organiser, didn't sign a deal for an application submission and also didn't pay a fee to the FIA for including an event on the FIA F1 calendar.
"RAF informs it is ready to include the Russian Grand Prix on to the FIA calendar under force-majeure conditions, permissible by the FIA, as soon as the promoter fulfils all the necessary formalities."
Although an undoubted stumbling block for organisers, there is strong desire within F1 to see the sport enter the new market. The event comes with strong state support given that Russian President Vladimir Putin attended the signing of the contract with Bernie Ecclestone three years ago.
The first version of the 2014 calendar is set to be released by the FIA's World Motor Sport Council next month but it remains uncertain how many races the schedule will feature, and in what order.
Russia, New Jersey and Austria are all slated to join the schedule but Ecclestone has signalled the calendar will not go beyond a record-equalling 20 grands prix, which means there would be just one more than this year. One space has, however, already been created after Indian GP officials confirmed this week that they would sit out 2014 with the event to return in the early-part of the 2015 season.
Russia, should it go ahead, is likely to slot into India's mid-October slot next season.