Bernie Ecclestone declares 'we'll be there' despite controversy over first Russian GP
New Sochi circuit passed its FIA inspection this week
By James Galloway
Last Updated: 22/08/14 12:00pm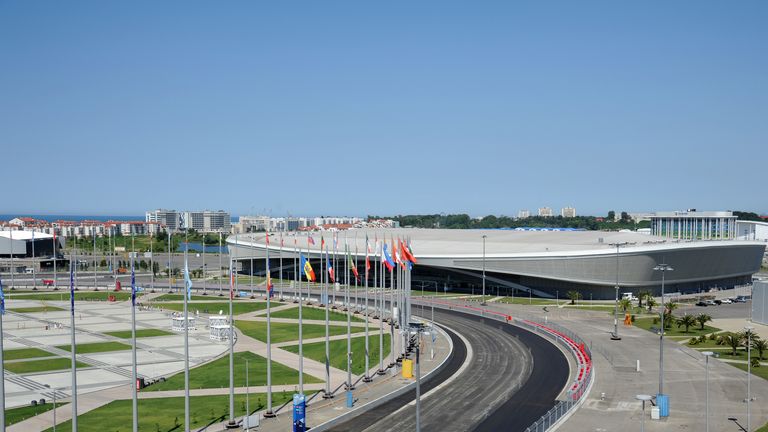 Bernie Ecclestone insists there are no doubts over the inaugural Russian GP in October with F1's supremo declaring "we'll be there".
The build-up to the sport's long-awaited first trip to Russia has been overshadowed in recent months by the political turmoil currently engulfing the country, events that have already led the World Superbike Championship to cancel their scheduled race in Moscow in September.
F1's powerbrokers have, however, remained unmoved where the GP in the Black Sea resort of Sochi is concerned and earlier this week the new track, which winds round the city's Winter Olympic Park, was given the seal of approval during an official inspection by FIA Race Director Charlie Whiting.
And speaking to Sky Sports News HQ at this weekend's Belgian GP, Ecclestone reaffirmed that the October 12 race would go ahead as planned.
Asked if there were any doubts about Sochi, Ecclestone replied: "No. We have an agreement. We'll be there."
The simmering controversy over F1's impending visit to Russia has drawn comparisons with similar contention over the sport's trips to Bahrain in recent years. Although civil unrest in 2011 led what had been scheduled to be the season-opening round to be shelved, the Gulf nation returned to the calendar the following season.
In an impassioned plea against what he saw as sustained negative reporting of the sport this season at last month's Hungarian GP, Red Bull Team Principal Christian Horner said teams wouldn't boycott races on their own volition. 
"Look, there's a calendar that comes out in October and November. We all have a choice whether we enter the World Championship or not. All the people sitting here are racers and they're here because they are passionate about the sport and they want to compete," he said.
"When we sign up for that championship we put our faith and trust in the promoter and the FIA and we will attend those races unless they deem it unnecessary for us to be there."