Jolyon Palmer's GP2 Diary - Monaco
The highlight of the calendar turned out to be a stop-start affair - but the series leader continued his dominant run nevertheless
Last Updated: 29/05/14 2:21pm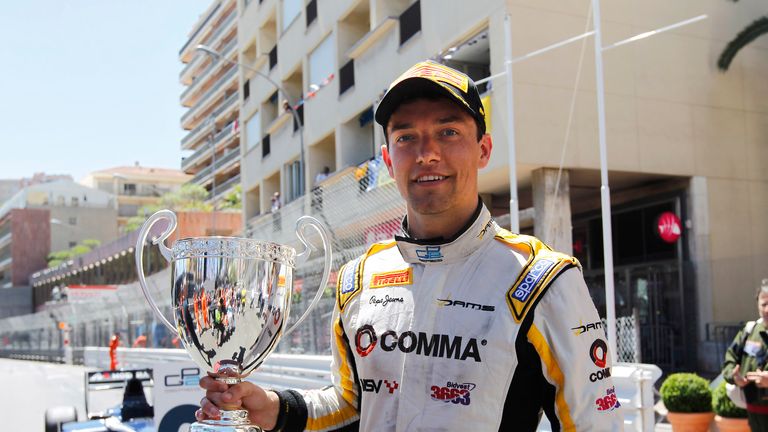 It's one of the races you earmark at the start of the year and you just can't wait for it to arrive. It's a slightly different weekend for us because everything happens a day earlier, we run from Thursday to Saturday. It's nice as well because instead of the usual drive from the hotel to the track every morning, I was able to cycle or take a boat ride in which makes a nice change.
The atmosphere is one of the best every year. The glamour and the fact it's in the streets gives the place a real buzz, and from the moment we turn up we are just itching to get in the car and start hurtling around such a legendary circuit.
On Thursday we had 45 minutes of practice and then qualifying, with the qualifying split into two groups of odd and even numbers, to reduce the amount of cars on track and allow people to get more clear laps in. After comfortably topping practice, I was drawn in the first group and was glad to see that the track had just about dried out by the time we started our session, meaning I still had a shot at overall pole position. I did one of my best-ever laps to top my group by 0.4s, but with track evolution I still had a nervy wait to see what would happen in Group B. In the end the group didn't get close and after just missing out last year, I had my first pole position.
For the feature race on Friday, tyre strategy, red and yellow flags, safety cars and engines overheating all played a part. It was a really strange race, as can often be the case in GP2 at Monaco. There were a lot of people trying do-or-die moves throughout the race, but realistically almost every move around Monaco requires some co-operation from the other driver and in a lot of cases that wasn't happening, leading to a high attrition rate, lots of safety cars and even a track blockage at the tight Fairmont hairpin which caused a red flag.
I had just taken the lead and was breezing away from Mitch Evans, who was struggling for tyres, when I exited Ste Devote, looked up to the big screen and saw chaos a few corners ahead! All you can do in that situation is remain calm; the race obviously had to be red-flagged and I waited for a gap to return to the starting grid.
Some people like Richelmi and Rossi struggled with engine temperatures rising, which put them into safety mode. The marshals did a good job to get them going again and after a few failed attempts it was amusing to see Rossi put his foot hard on the brakes when the marshals were trying to push him into retirement. To his credit, he did eventually get going again and rejoined the race.
The rest of the race was made a lot harder than I had hoped, firstly through a safety car period which bunched the field just as I thought I had the race in the bag again. Secondly, a host of yellow flags and incidents made the track a minefield to get through at times and on top of this, I was struggling a bit on the option tyres. In the end I was delighted to hold off Evans for the win. A win at Monaco is extra-special and this race win meant more to me because it was made so difficult and I felt I had it won a couple of times already, so to win the race over an hour-and-a-half after we started was incredible.
Of course, the main talking point over the whole weekend was the Hamilton vs. Rosberg saga in Formula 1. I was watching the qualifying live with a lot of people in GP2 hospitality and at the time it looked like a genuine mistake from Rosberg; however, watching it again it is possible to have opinions of it either way. It's impossible to be sure, but some aspects do look strange, though Nico has always seemed like a very honest driver. He doesn't open the corner up fully on the entry, indicating that he knew it wouldn't matter as he wouldn't complete the corner. The wiggle on the steering wheel in the braking phase is also very strange. On the other hand, if it was a genuine error then you can't blame him for pushing to the limit, or even over it. He knew he probably needed to improve, so there's no point driving at a comfortable pace, he had to push it and risk a moment like this.
One thing for sure though is that it is very good for Formula 1 to have the rivalry that it has now created and it has made the rest of the championship a lot more exciting, even if it is still just a battle between the two Mercedes cars.
It was nice to be able to relax on Sunday for once, with no driving on. I thought the Grand Prix was a cracker and with a bit of overtaking and a high attrition rate it was great to see Bianchi finally net Marussia's first points with a superb drive. What is even more impressive is that it puts them not only ahead of Caterham but also Sauber in the Constructors' Championship at the moment.
So after a long and eventful weekend I am absolutely exhausted as I return to the UK. It has been an amazing weekend for me and I'm loving every moment of this season so far. We have a long break now before everyone faces a new challenge - GP2 in Austria, I'm sure it will be all-action as usual.
JP
Follow Jolyon on Twitter: @JolyonPalmer