Jolyon Palmer's GP2 Diary - Great Britain
The DAMS driver discusses the disappointment of missing out on victory in his home race and being given a Hockenheim trophy
By Jolyon Palmer
Last Updated: 11/07/14 10:42am
There are a few races I really look forward to more than others at the start of the year and Silverstone is definitely one of them. It's obviously my home weekend, and maybe I'm biased, but I think it is the best race to have as a home weekend.
The crowd are always great - one of the biggest, if not the biggest in the whole year, helped by the fact that Lewis is doing so well in Formula 1 this year. With Alex Lynn and I leading our respective championships I think it gave them an extra interest in the support series as well. On top of this I have a lot of personal support as I have loads of family and friends who come for the weekend.
The track is also one of the best on the calendar. Everyone goes on about Spa and Eau Rouge, which is massively impressive, but at Silverstone you have Copse, Maggots, Becketts which is an amazingly fast section of track. Normally on most other tracks you don't have so many fast corners as a sequence and it's really a thrill to drive. The new GP layout, with the fast Turn One and the two hairpins of Village and the Loop really add to the racing as well and make overtaking relatively easy, when it used to be almost impossible on the old layout.
Qualifying on Friday showed just how competitive GP2 is this year. In Austria I qualified second, missing pole by 0.04. At Silverstone it was even closer, I missed pole by just 0.027 and the top 4 were separated by 0.039. For a 1:40 lap this is unbelievably tight. I was thinking I'd have to improve to even hold position in the second half of the session but the track worsened and it ended up being another P2 for me, my fifth consecutive front row qualifying. 
After a session like that when you're not pole you always think of the slightly mistimed gear shift somewhere around the lap or even the extra bit of lunch you had before the session that cost the difference! The reality is any one of the top four could have been pole and there were two drivers just behind me who will consider themselves even more unlucky.
It wouldn't be Silverstone without talking about the weather. I have a theory that GP2 races are about the least likely to be wet in the whole of motorsport and Saturday's race shows just why. Just an hour before our feature race I was watching the F1 qualifying in horrible, changeable conditions... The exact sort of conditions you don't want when you're starting at the front of the grid. 
If it would be just wet or just dry then that is fine but having changeable conditions leaves the results open to strategy gambles from the drivers further down the field who can luck in with a tyre gamble, whereas the drivers at the front typically play it safer.
With half an hour before our feature race the heavens opened again and it looked certain that our race would at least start wet. With Q3 still remaining, though, the ten F1 cars fighting it out for pole managed to dry the track so quickly that the pole time wasn't far off their outright pace and it meant that the track was now pretty much bone dry (other than my side of the grid!) for our race. 
With our feature races coming straight after F1 qualifying they are often drying up any moisture on the track, leaving it dry for us... Hence it has been over two years now since I last did a wet race! Even on Sunday mornings GP3 do their best to dry the track for us and whilst the chance of it being wet is higher, it is still much lower than for them.
In our Feature Race I had a great scrap with Mitch Evans for the win. I thought I had the race in the bag as I pitted from the lead with ten laps to go, but struggling a lot on the out lap with cold tyres, Mitch did a very quick in lap and a great pit stop from his team to emerge just ahead of me on track. 
Knowing I would have one chance to pass him I sent a lunge around the outside of Brooklands and then tried going all the way around the outside at Luffield, the old last corner. Mitch was stern in his defence and edged me wide onto the grass and that really was the end of my challenge for the win.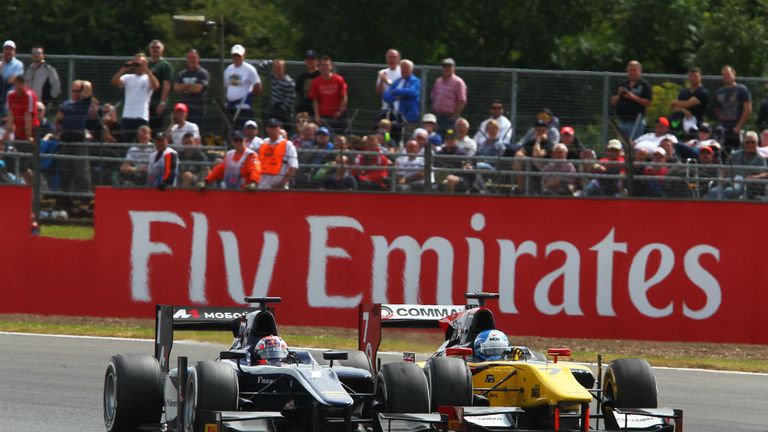 It was a hard fight but if I was in his position I probably would have done the same. I was gutted not to take the win, when it was so close, but to be fair Mitch deserved it in the end. We really pushed each other hard throughout the race and finished over 20 seconds clear of Stoffel Vandoorne in third place.  I was happy also for my old team, iSport, (now Russian Time) who took their first win since their comeback to GP2 this year.
In the Sprint Race I managed to fight through to fourth from seventh on the grid, whilst Nasr took an easy victory at the front to cut back into my championship lead. After a weekend like we had it is a shame to only pull out five points in the championship but that is the way GP2 works with reversed grid races. We are looking extremely strong so far this season and I see no reason for that to change in the future.
It was funny to see Lewis Hamilton's comments on his trophy at Silverstone. He wasn't very impressed with his red, quirky design of trophy from main sponsors Santander. My trophy looked very nice on Saturday and I was delighted to at least get one, albeit second place, from my home round. The only problem is that it congratulated me on my second place finish at Hockenheim! 
So who knows, maybe the runner up at Hockenheim in two weeks will get a nice Silverstone trophy, and maybe that could be me... Although I'd love to take my third win of the season and will come out all guns blazing for it.
JP
Follow Jolyon on Twitter: @JolyonPalmer