Jolyon Palmer's GP2 Diary - Germany
The GP2 Series leader on another podium, putting the curse on wet races, and preparations for Hungary
By Jolyon Palmer
Last Updated: 24/07/14 12:53pm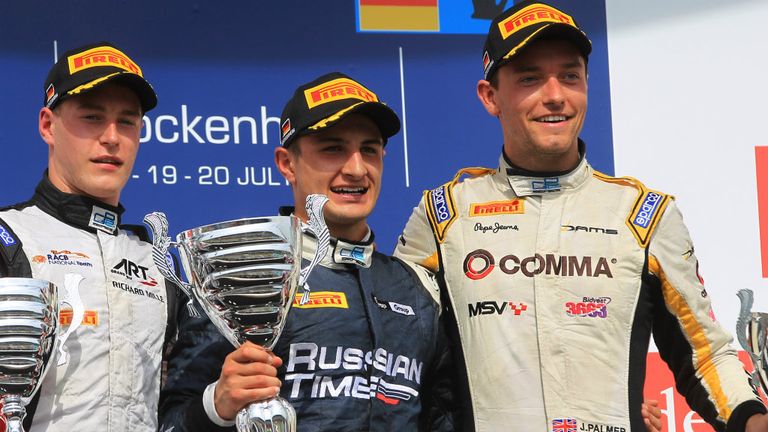 It had been a couple of years since I last raced at Hockenheim, as the track alternates with Nurburgring as hosts of the German Grand Prix.
For some reason I had never previously had good results in Germany throughout my career at three different circuits, including Oschersleben, a smaller track where I raced in Formula 2. Hockenheim is my favourite of the German tracks though. There are good overtaking opportunities with big braking zones which makes for exciting racing. The stadium section at the end of the lap is completely the opposite. It is tight and twisty, more like an old-school circuit and very difficult to get right. The small run-offs there add to it as well as there is no margin for error.
After a messy free practice session, I put in one of my best laps at the start of qualifying to take provisional pole by 0.3 seconds. With tyre degradation looking high we decided we would try and save a set of option tyres for the race and not run on the second set like everyone else. I went out with a few minutes to go just to scrub the tyres, whilst my engineer was telling me on the radio if someone was looking like they might beat my time, meaning I would need to push for another lap. It was quite tense just hearing that people were improving all the time but not by enough, I spent pretty much my whole two laps just looking at the big screens to try and see if anyone was on a good lap and then on my mirrors to make sure I didn't impede someone else and get a penalty! In the end I was delighted with my third pole of the year, my sixth consecutive front-row start.
Saturday marked the 200th race of GP2 and I think it showed everyone quite why GP2 is such a success. It was a long, hot race with lots of different strategies going on, great racing all through the field and a very close fight for the win until the end. Evans drove a great race to win from 15th on the grid and Stoffel Vandoorne also did well and was arguably a bit unlucky not to win, as he was unsure whether he was racing Mitch Evans for position and so didn't fight him when his tyres were at their best. After losing out to Vandoorne at the start, I ended up a frustrated third, right behind the two of them and couldn't find a way past in the closing laps.
Of course I should take the blame for having the first wet race in over two years on Sunday. I guess after saying how we never have wet races after Silverstone, it was inevitable, but it provided yet another great race. The choice between slicks and wets on the grid was a close one but I decided to go with wets, like the majority of the field. Ultimately the early Safety Car allowed the cars on slick tyres to stay with the pack as the track dried out and gave them a good chance in the race as they could get their tyres up to temperature. Without that I'm sure they would have finished the race outside of the points, as opposed to being first and second, but these are fine margins and at the moment the riskier strategies are tending to pay off.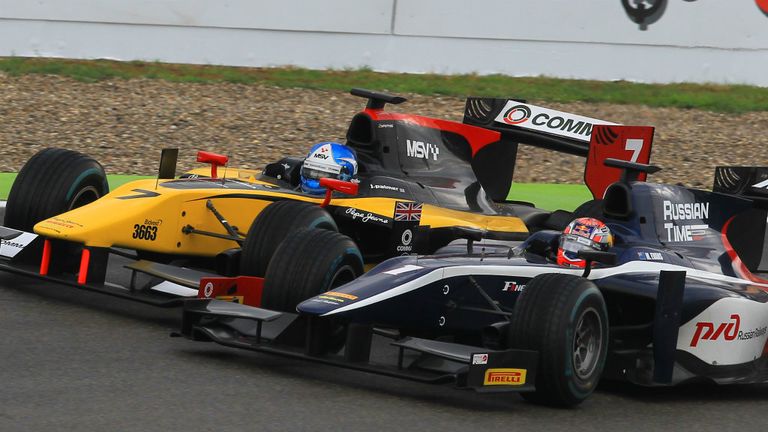 Having watched the races back, another person who I think performed really well on Saturday was Davide Valsecchi in the commentary box! His commentary was great alongside Will Buxton, he was a complete natural and really put more excitement into an already exciting race. I think it would be great if he could do more races and it is a big shame that as the 2012 GP2 champion he hasn't had any better driving opportunities since he quit his Lotus third driver role at the end of last year.
It was very strange in Germany that the crowd was so small. For a country that has a lot of sporting success and has Mercedes and Nico Rosberg fighting for the title, as well as coming off the back of four Sebastian Vettel titles, it was amazing to see that it was one of the quietest Grand Prix of the year, especially considering that the Red Bull Ring, not that far away was heaving less than one month ago.
A lot has been said about the ticket prices being too expensive, which could be true but I think what is a shame is that they got rid of the old Hockenheim layout and changed most of it into the modern version. With three massive straights, where after Turn One you would go blasting into the forest and come back out 40 seconds later in the stadium section, I think the circuit had real character and identity. It used to stand out on the F1 calendar as a spectacular race with high speeds and great racing. Now the modern circuit has its benefits, as there are more viewing areas and the lap is slightly shorter so you see more of the cars, but I can't help but think there would be a lot more soul to the German Grand Prix with the old layout, much like Spa or Monza.
Anyway, I'm now getting ready for this weekend. After a quick stop in France for some team briefings and simulator time it is Budapest this weekend, a track where I won last year and have usually gone well. The field is getting tighter and tighter though so I'm not resting on any laurels... We will need to keep pushing as hard as ever to be at the front. 
JP
Follow Jolyon on Twitter: @JolyonPalmer