Zamparelli's GP3 Diary - Germany & Hungary
Selfies, road trips, annoying sandwich sellers, autographs, the temptations of a waterpark and some racing thrown in as well – it was a quiet few weeks for the ART driver.
By Dino Zamparelli
Last Updated: 16/09/14 9:39am
Back to Back Races = Back to Back podiums
I was not able to write up a blog in between the German and Hungarian rounds. They were back to back, and it was all a bit manic. I was away from home for two weeks, so my suitcase was jammed to the maximum with clothes, and thus not enough space for my laptop! It was a positive two weeks away from home though and I came back with a big amount of points scored and a further two championship trophies added to the collection...
Let's start with Germany first. The weekend went well – it was probably the hottest race weekend I have ever experienced. Honestly, it was like constantly being in the oven. The flight over was fairly comfortable; no crying babies to report of! I landed in Paris on the Tuesday of the race weekend, as we had the simulator on Wednesday. At the Paris airport, I was met by my team mate, Mr Alex Fontana. We had to wait a couple of hours for our other team mate, Mr Marvin Kirchhoffer, as we all took the same hire car. They're both really good guys and we have a lot of fun together. I get on well with both of them, which was useful as I had to spend five hours in a car with both of them travelling from Paris to Germany. 
Alex did all of the driving, Marvin did all of the navigating, and I took most of the selfies in the back. I managed to sneak one good one before we left!
We arrived safely with no dramas around 8pm on Wednesday evening. I say no dramas; the woman who sold me a sandwich at the petrol station near Paris, was a tad on the rude side, if I'm honest. I was going to say something very cutting and clever, but I figured she would have just sighed and responded in French anyway. So I smiled way over the top and said, "You have yourself a good day now" in an annoyingly loud English accent but speaking French. Dino = 1, annoying sandwich seller = 0. (In my opinion anyway)
Practice went well in Germany – I was fourth fastest and feeling confident with my car. My team, ART Grand Prix, had made some positive changes to my set up that seemed to have suited my driving style a lot more. For Qualifying, it was just a session of pure frustration. I felt super-fast and ready to do a big lap time for the top three. But for the first set of new tyres, (we always have two sets of new tyres), I found every man and his dog in the way. And when I wasn't getting blocked, I had a yellow flag at the end of the lap which ruined it. I still managed a lap time, just some laps later. Eventually I ended up sixth on the grid. It wasn't a total disaster, but it wasn't what I was hoping for. 
For the race, it was fairly standard stuff.  I jumped up into P5 at the start, had a fairly boring race following first to fourth in front of me and it only get interesting when for the last three laps, my tyres started to cry for help, to my dismay. As a result, I lost a place on the last lap and ended up sixth. This meant that for Race Two on Sunday morning, I would start in third place. I got an almighty start and launched into second place. I then set about not killing my tyres and held second place to the end. I could do nothing about the leader. Although, I did have a chance to overtake on lap one, but there were yellow flags into the braking zone of Turn Six at the Hockenheimring. I had set it up beautifully and was right in the leaders' slip stream. I was tucked up right behind half way down the straight and just as I came out of his slipstream, I saw the yellow flags, meaning I could not overtake. So I tucked back in line, and could not get close again.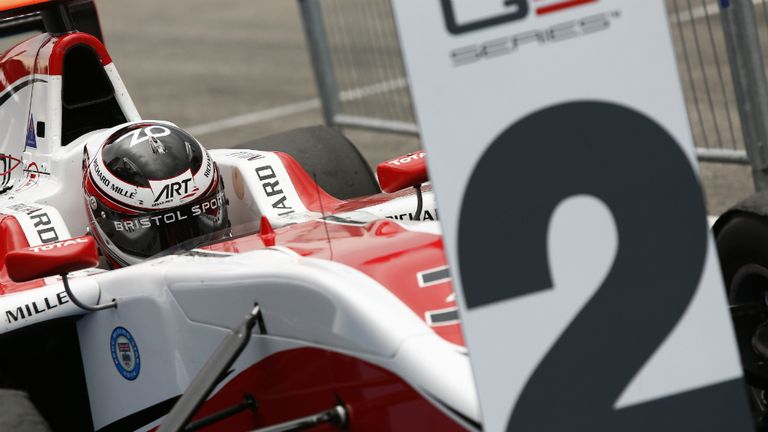 Anyway, it felt nice to be back on the podium, and it was a good to take some momentum into the following race, the following weekend at Hungary!
Hungary is one of my favourite race circuits on the calendar. It's very tight and twisty in the middle sector, and it has a mixture of all sorts of corners. It's a really busy lap, and a lot of fun to drive. That's not to mention my love for Budapest as a city. It's a beautiful city and the people are really welcoming and friendly. Arriving at the Budapest airport with my team mate Alex, it took us about 20 minutes to get through, with racing fans wanting pictures and autographs from us! Always a nice little ego boost before a race weekend!
We arrived at the circuit and did our usual pre-race briefings and meetings. It was quite hot in Budapest, but not quite as hot as Germany. There's an aquapark right next door to the circuit; it would have been nice to go there on Wednesday, but we didn't have enough time unfortunately. Every year that I've been to that circuit, I've always wanted to go, but never have found the time. Maybe I should go there when I'm not racing; it looks epic every time I go through Turn Four and Five as I can see the water slides!
Free Practice I was quickest, which was nice. It's always nice to start the weekend being quickest and feeling comfortable with the car. ART and I have worked hard on finding a balance that I feel good with – and it paid immediate dividends in Free Practice. And indeed for Qualifying, where I eventually went on to qualify in fifth spot. I was leading the session for about 90% of the time, but a bit of traffic on my final lap out of the last corner, cost me two tenths of a second. It really is fine margins around these tight and twisty circuits.
Anyway, I was content enough with P5, as I felt like we could push on and claim our first Race One podium.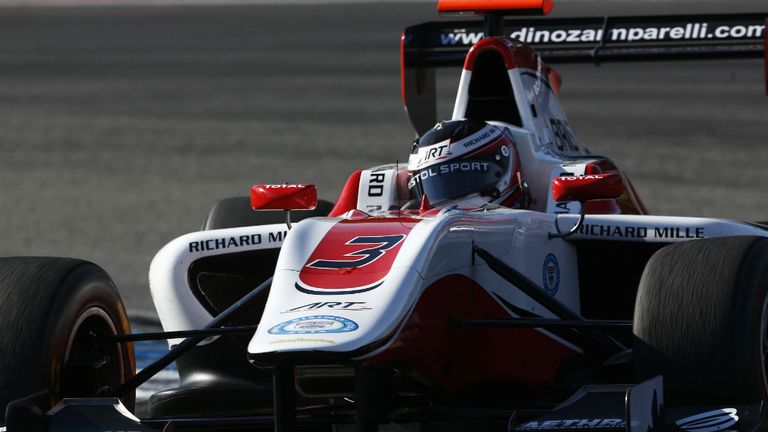 The start of Race One cost me my podium! We haven't quite found the perfect starting procedure with this. It's quite tricky, we have a hand clutch and there are several ways in which you can actually get the thing off the line. Some are clearly faster than others. But at this time, I was caught between doing two procedures, so I was effectively in limbo land, and off the start line, I got mugged. I got shuffled down to eighth place. I was so angry, but I could do nothing about overtaking, as it's nye on impossible around the tight and twisty circuit of Hungary. I ended up in eighth place, with some more points and a reverse grid pole for Race Two. Whilst it's nice to be on pole for Race Two, it really isn't what I'm aiming for. Being fifth on the grid, the very worst I was expecting, was fifth place. So to lose places, was for me a total disaster. I was not happy to say the least. We spent some hours looking at our starting procedure and aimed to get it fixed for Race Two.
In fact for Race Two, I did a decent start. It was faster than Race One's start, and it felt better. But it just wasn't quite as good as Patric Niederhauser's behind me. He got a great start and flew passed the front row, to take the lead. I managed to consolidate second place – and again, I had to settle in behind the leader for the second time in one week. I crossed the line about 1.5 seconds behind him. We had pulled away a comfortable seven seconds from third place. But for me that was no consolation, I was absolutely gutted. I immediately apologised over the radio to my team – I felt like I should have done more at the start. We certainly made a step forward from Race One, but it still was not exactly right. And the two slow starts have cost me a lot of points this weekend.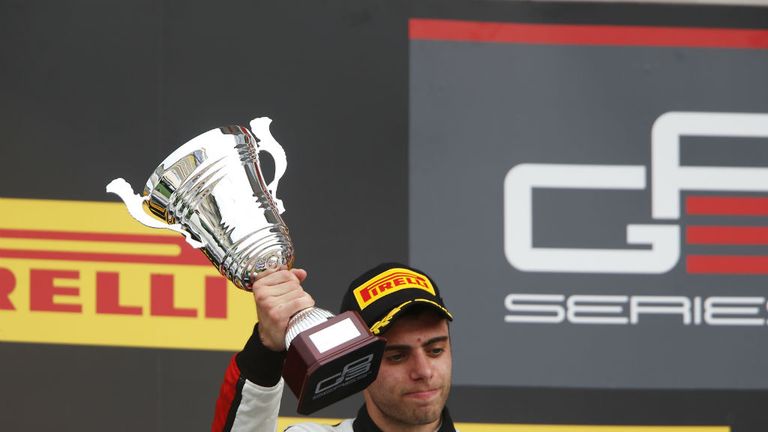 The podium celebrations felt like the most upsetting podium of my life! I can't describe just how emotionless I felt. I tried to put a brave face and smile away, but it was so difficult, the life felt like it had been squeezed out of me. We have come so close yet again to that victory, and I've come up short on both occasions, on the second occasion it was only by 1.5 seconds. 
I can't take anything away from the two winners who just beat me to the victory and I by no means wanted to look ungrateful on the podium, or like I was angry because I didn't get what I wanted. Rather, I was just very frustrated and disappointed with the outcome of what looked like a very positive weekend. We had so much speed and pace - ART Bristol Sport gave me an amazing car and I felt so comfortable to push on every corner. So it was for this reason that I felt a bit gutted on the podium. Winning is everything for a racing driver; that's why we do what we do. That's why we risk our lives for it, so we can win. Finishing second does not feel good; especially when you know you had the pace to easily win the race.
However, we have to look at the positives, and they were a plenty during both weekends. We scored the third highest amount of points during the back to back weekends of Germany and Hungary. And of course, we have another two very shiny trophies added to the cabinet. Our consistency and ultimate pace has improved dramatically, and I'm feeling a lot more comfortable with the car and my driving. We have a summer break now of about four weeks, before we head into the second half of the championship. The next race is in Spa, Belgium. This is by far and away one of my favourite race circuits on the calendar, so I cannot wait. 
We have just one or two areas we want to look at before Spa. As you can probably guess, the start procedure will be reviewed and re configured for the rest of the season. ART are an amazing team, so we will find a way to get launched off the line! When we do, there will be no stopping us...
For now though, it's time to get away from reports, emails and blogs! I'm taking the week off from the computer and racing (as much as I can) and will be just training in the gym very lightly. It's important to stay nimble and sharp. At the same time, I think all of those flights with screaming babies have worn me out. I'm going to recharge, reset, and hit the second half the season hard, progressing on the momentum I've built up!
See you in Spa!
DZ
Follow Dino on Twitter: @DinoZamparelli #TeamDino