Reflecting on Ricciardo
Six talking points from Daniel Ricciardo's appointment at Red Bull for the 2014 season
By Pete Gill
Last Updated: 04/09/13 8:34pm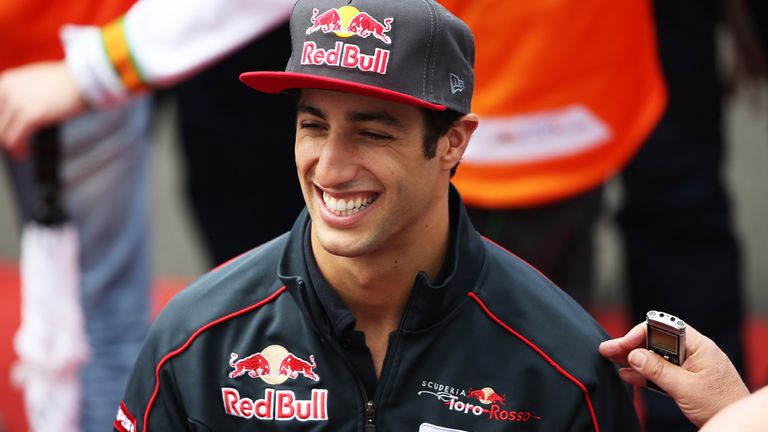 It would appear another sign F1's old guard is being usurped, and another reminder that timing and the fickle hand of fate are all-important in F1...
Testing still matters - and so does fate's fickle hand
Although Daniel Ricciardo's appointment alongside Sebastian Vettel was first billed as a 'done deal' prior to the Hungarian GP, it ought not to be forgotten that when Mark Webber actually announced his intention to retire it was Kimi Raikkonen who was immediately installed as the odds-on favourite to partner Sebastian Vettel in 2014. At that stage, Ricciardo's candidature was something of an afterthought.
So what changed? A series of commendable qualifying - but not race - results certainly helped, but the tipping point in Ricciardo's favour seems to have been his outing at the Young Driver Test in July at Silverstone when the youngster defied an early excursion into the gravel to make an impressive audition for promotion. Would Daniel have earned a seat alongside Vettel had he not lapped within two-tenths of the World Champion's best time? Judging by the comments of Christian Horner in Red Bull's Monday night video release in which their Team Principal overtly referenced the positive impression Ricciardo made on that July day, it seems not.
Testing still matters - and so does the fickle hand of fate. After all, had it not been for the blowouts during the British GP, race drivers would not have been permitted to test at Silverstone. In which case, Ricciardo would be looking at another year at Toro Rosso and Raikkonen would have remained in pole position to land the most coveted seat available for 2014.
Driver appointments are rarely an exact science in F1.
The 2014 dominoes can now start to fall in place
Despite a reputation to the contrary, Ferrari rarely announce driver deals at Monza - just twice in over twenty years, to be exact. Nevertheless with Red Bull done and dusted, and Raikkonen's dilemma distilled to a choice between returning to the Scuderia or retaining faith in Lotus, Ferrari will be the principal focus of media attention this weekend. More than most, Force India, Sauber and Marussia will await Ferrari's decision with impatience and considerable vested interest.
Nevertheless, the dominoes are falling into place; Antonio Felix da Costa is a near-certainty to partner Jean-Eric Vergne at Toro Rosso next year and once Ferrari make their choice the rest will soon follow. At long last, fact is finally being separated from fiction in the 2014 market.
A strange time to bury good news
Whilst confirmation of Ricciardo's promotion wasn't a surprise, the timing of the announcement certainly was. With half of the paddock locked into a Leicester Square cinema watching the premier of Ron Howard's film Rush, and football's transfer deadline day approaching its frenzied, attention-grabbing climax, this was a strange time to bury good news.
So why the bizarre timing? Half of the answer is that Red Bull opted to make their announcement on a weekly Austrian chat show. The other half is the obvious corollary: although Red Bull are a British-based outfit in a worldwide sport, and Horner is the public face of its management set-up, it's very much their Austrian owner Dietrich Mateschitz, along with compatriot side-kick Helmut Marko, who calls the big shots.
Amid continued speculation Horner and Adrian Newey preferred Raikkonen over Ricciardo, the same might be deduced from the actual announcement as well.
The press take their revenge
Alas for British-based F1 fans who prefer to receive their news in mucky print, the first inevitable consequence of the bizarre and awkward timing is scant coverage of Red Bull's announcement in Tuesday's newspapers.
The second inevitability is a series of tart comments in what little mention can be found of Ricciardo's big break. 'Perhaps Red Bull did not want the publicity,' writes one pundit. 'The news crept out,' adds another, 'almost as though Red Bull were faintly embarrassed that they have been unable to land a big name.' Ouch. But what else could Red Bull expect? After releasing their announcement at a moment of maximum awkwardness, a negative spin being put on their news was painfully predictable.
Timing maters for the drivers too
Meanwhile, one F1 protagonist who does deserve sympathy when the timing of Red Bull's announcement is considered is Jaime Alguersuari. Remember him? Given that the youngster has dropped off the radar since being dropped by Toro Rosso eighteen months ago, it's been all-too easy to forget about the Spaniard and the glimpses of talent he produced at Toro Rosso in 2011.
How different it might have been, though. As James Allen has already observed, there's every reason to assume, on the basis that Ricciardo's promotion owes a heavy debt to his graduation from the Red Bull Young Driver Programme, the unfortunate Alguersuari would have been promoted alongside Vettel rather than booted out of F1 altogether if Webber had announced his retirement at the end of 2011 rather than 2013.
Timing is almost everything in F1.
The big guns are looking to the future
There's a trend appearing: Sergio Perez is in a McLaren at the tender age of 23, the 24-year-old Ricciardo is replacing the 37-year-old Mark Webber, and it was only 12 months ago that Mercedes appointed a driver in the shape of Lewis Hamilton who was fully fifteen younger than his predecessor.
The changing of the guard at the top end of the grid is underway and, in the context of their rivals already turning to the future, pressure is mounting on Ferrari to follow suit in appointing a younger replacement for the 32-year-old Felipe Massa. This is not a sport in which playing catch-up pays dividends.
That said, Raikkonen is probably still under consideration, and Ferrari's need to respect the demands of the present time is rather more urgent than Red Bull given their absolute shortage of recent success. Nevertheless, the smart money should be on the Finn staying at Lotus and Ferrari appointing either Nico Hulkenberg, Paul di Resta or Jules Bianchi for much the same reason that Red Bull have selected Ricciardo.
A fast learner with potential and age on his side is currently the hottest ticket in town as the sport gears up for the 2014 rules revolution.