Jenson Button reckons he wasn't ready for F1 as a 20-year-old debutant back in 2000
Toro Rosso teen Daniil Kvyat could be in for a "massive shock"
By Mike Wise
Last Updated: 24/10/13 3:46pm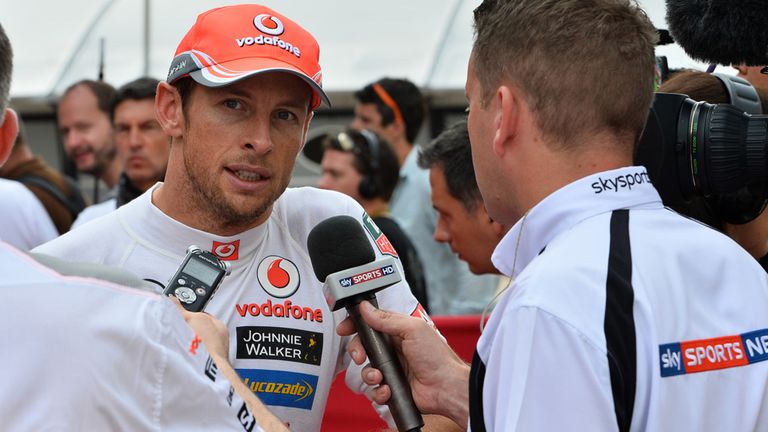 Button was barely 20 when he took the plunge for Williams at that year's Australian GP. Kvyat will be one month short of that milestone next March and there could be an even younger Russian on the grid in 2014, assuming 18-year-old Sergey Sirotkin gets the seat Sauber have promised him.
"For me when I arrived in 2000, I was nowhere near ready for Formula 1. I had to take the opportunity - I had to - because you never know if it'll come again," Button said at the Indian Grand Prix on Thursday.
"So you're in a very difficult position when you're that young because you're told you have to take it - and you have to.
"But if I had the option to race for two more years and know I would get into a Formula 1 car after that, I would have taken that option."
According to Button it's the sheer complexity of a Formula 1 car that can bamboozle an inexperienced youngster - the McLaren driver also reckoning that wholesale rule changes, which centre on new 1.6-litre V6 turbo engines and enhanced energy recovery systems, will make things even more difficult next year.
"It almost destroyed my career to go so early into Formula 1. As soon as I had a car that wasn't competitive, I found it very difficult to set it up," the 2009 World Champion said.
"For the young kids that are coming in, it's tough because we have such a big regulation change in 2014: you've got to really understand the KERS system and the power torque of the engine is very different.
"You've got to do so much work out of the car before you get in; it's not like every other formula. Every other formula doesn't have drive-by-wire and all of that, so it's a very different way of racing.
"You've got several hundred people that depend on you and listen to you and your comments about the car to develop it.
"In a small F3 team, you've got eight guys or ten guys that might tweak it here and there, but it's very, very different."
Kvyat is placed second in the current GP3 standings and has also raced F3 this season. He made his F1 debut during July's Young Driver Test at Silverstone, completing 22 laps for Toro Rosso.
"The best thing for a young driver, I personally feel, is to have a good career in lower formulae and spend time at a Formula 1 team, experiencing what a driver will go through on a race weekend - because he's going to get a massive shock when he goes to Melbourne," Button added.
"He might be great and none of us will be talking about this again. And hopefully he will, for his sake.
"But it can also kill a career."