Daniil Kvyat hopes changes to the rules in 2014 will help him adjust to F1 quicker
Russian youngster will drive for Toro Rosso next season
By William Esler
Last Updated: 17/12/13 3:47pm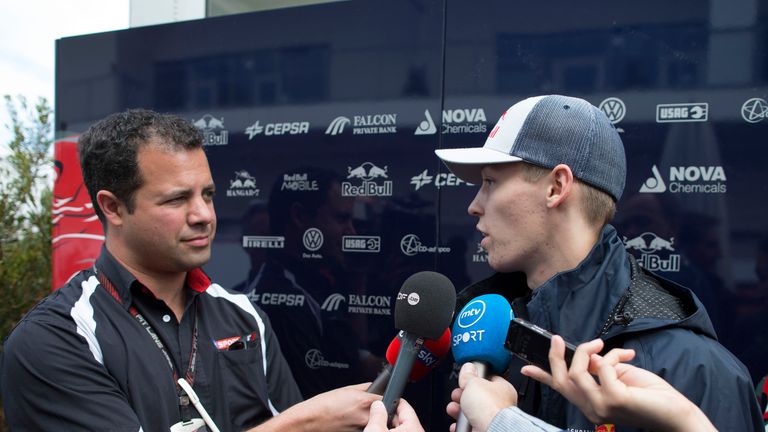 Next season a greater emphasis will be placed on engine and electrical recovery systems in the biggest revamp of the sport in a generation, and with everyone starting from essentially a blank page, the reigning GP3 Champion is hopeful this will help him make the leap up in class.
"There are a few things that are starting from the beginning again, but of course Formula 1 is still Formula 1 and it is still a very powerful and fast car," the 19-year-old said.
"So I would say it is a bit helpful from one side, but a Formula 1 car is still a Formula 1 car and it will never change.
"There are a lot of new regulations next year, but you have to learn as quickly as possible and I don't think it is going to be a big problem. We just need to find a solution better than the others and hopefully we will be there. It is all about that."
Kvyat got his first taste of life as an F1 driver with Practice One outings at the final two grands prix of the season, winning many admirers with how quickly he was on the pace.
"It was good to finish only two tenths off Daniel [Ricciardo] as he is a really experienced guy with a lot of speed in himself and it is good news and nice to know that I could end up quite close to him and from the data I was able to learn many things," he added.
"Then in Brazil we had a really good run and it was very encouraging - I didn't do too many laps but still ended up P8, so it is looking really promising so far."
Whilst the rest of us enjoy a season of indulgence and rich food over the coming month, there will be no such luxury for the Russian as he prepares for the physical demands of stepping up from a 400bhp GP3 car to an F1 car with nearly twice as much power and considerably more downforce.
"A lot of cold," he joked when asked what is in store this winter. "No, there will be a lot of preparation somewhere in Europe, I will go back to Moscow at Christmas for a little bit of rest to recharge my batteries, otherwise before and after that it is a lot of training to get up to physical shape and doing some simulator work as well."
Despite his young age, Kvyat has shown great maturity as he has progressed through the Red Bull ranks, and that was again evident as he rejected the notion that he would be counting down the days to his first race in Melbourne on 16th March.
"I wouldn't say I am counting down the days - that would be the wrong approach, you cannot do that," he concluded.
"You have to take every race as one race, you cannot just be thinking about one race. I see this as a long thing, it is a great challenge and I am really looking forward to it."