Toro Rosso revealed their 2014 challenger - the STR9 - in the Jerez pit-lane on Monday
Car's nose the focus of attention at unveiling
By William Esler
Last Updated: 27/01/14 7:53pm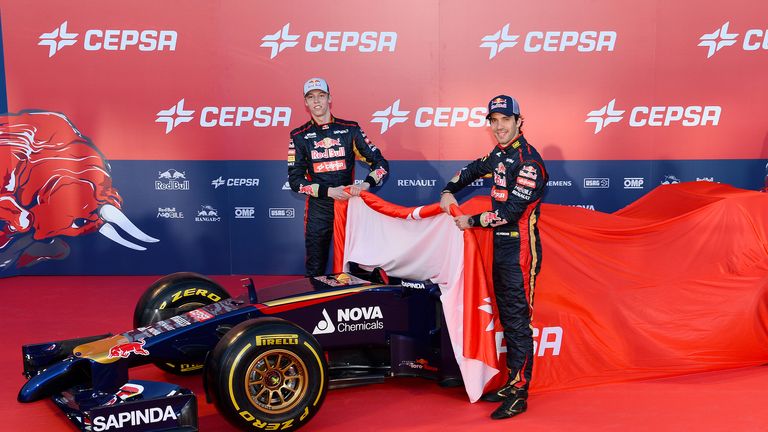 Jean-Eric Vergne was on hand with new recruit Daniil Kvyat to present the car the Italian team hope will help them improve on eighth place in the Constructors' Championship last season.
However, it was the tip of the STR9's nose that attracted the most attention causing an immediate storm on social media sides amongst F1 fans. Whilst 'anteater noses' were predicted on most cars this season, Toro Rosso's is the most extreme version revealed yet with a long drooping point.
Kvyat won the GP3 title in 2013 with MW Arden and drove in Practice One at both the United States and Brazilian GPs. His only other experience of a current F1 car came in the young driver test at Silverstone where he completed 16 laps, but despite his lack of mileage the Russian is excited about making the leap to the pinnacle of motorsport.
"I am very excited that I am about to start my first season in Formula 1," the 19-year-old said.
"It will be a year of discovering many new things, which I expect will be very interesting. I can't wait to actually start the driving part, the best part of my job. Six days of winter testing is not a lot and I will have to see how quickly I get used to the new car, which wasn't a big issue when I drove the 2013 car.
"Being a rookie means there's a steep learning curve, but the bright side of this year's regulation change is that all the drivers will be getting used to a new way of driving, starting from zero.
"Anyway, I have always liked a big challenge. Physically, I feel ready after a good winter training programme, concentrating a bit on my neck muscles. The team hasn't set me any specific targets, so its just a case of getting on top of my game as quickly as possible."
He will be partnered by 23-year-old Vergne who thinks the STR9 will be very different to drive than anything he has experienced in his previous 39 races.
"This will be my third season in Formula 1 and I definitely feel better prepared than ever before," the Frenchman said.
"From what I have seen in the factory, the same applies to the team. Now we must make the most of winter testing and work hard to ensure that all our efforts pay off. I am confident we have what we need to do well. From a driver's point of view, we will have a lot of new elements to understand and changes that will require us to adapt as quickly as possible.
"That will be one of the tasks for winter tests, so that we can make the most of the package available right from the first race. We will have to adopt a different style of driving, especially in the races, with this new power unit combined with the need to manage fuel, while the changes to the rule regarding levels of downforce will make the cars feel different, offering less grip, which will also take some getting used to. It's going to be a fascinating start to the year."
This season sees a complete revamp of F1's technical regulations meaning the teams couldn't just produce an evolution of their 2013 cars and Chief Designer Luca Furbatto says Toro Rosso have been working on their new car for around 18 months.
"It has been a fantastic challenge but very hard work," Furbatto said.
"Pretty much all the systems on the car are brand-new and that's certainly a concern from a reliability point of view as the season progresses, because we won't have known reference points from the past few years.
"Everyone in Faenza and Bicester has worked very hard and we have invested in different technologies and simulations in order to be as best-prepared as possible. We started STR9 in the summer of 2012, initially just purely on the simulation side. When James Key arrived in late 2012, he focused mainly on the 2014 car in terms of planning, simulation targets and internal resourcing whilst we were still designing the STR8. To his credit we were able to perform the first STR9 wind tunnel test shortly before Christmas 2012, much earlier than previous Toro Rosso projects.
"The biggest change to the regulations involves switching from a normally aspirated 2.4 litre V8 to a 1.6 V6 turbocharged engine, which is only one component of what is now referred to as the power unit, or power plant.
"The new power unit consists of an engine which is turbo-charged, a new and much powerful version of the Energy Recovery System, operating as an electric motor/generator connected to the crankshaft (MGU-K), and another electric motor/generator connected to the turbo (MGU-H), running at a much higher speed.
"The combination of these two energy recovery systems is the hybrid part of the new power unit package, the 'green' effect of the next generation of Formula 1 cars. The engine, although it's smaller and more compact, requires a fairly complicated energy management with all those motors and controllers working at the same time and exchanging energies between a battery pack and the two electric motors."
Toro Rosso switch from Ferrari to Renault power this season - a partnership that excites Team Principal Franz Tost who is hoping the team can move up the grid in 2014.
"The new rules have required a completely new design philosophy, starting with a clean sheet of paper," the Austrian said.
"Having invested in new staff and facilities over the past few years, we have been able to tackle the task of designing and building the STR9 with a group of engineers and designers that have been working on the project since Day 1, under the leadership of James Key. That stability has been of great benefit, while in other areas we hope that changes we have introduced will also bring a step up in performance.
"Not only do we have a new engine configuration with the move to a 1.6 litre turbocharged V6 coupled to two energy recovery systems, here at Toro Rosso we also have a new engine supplier in the shape of Renault. The French company's credentials are impeccable, having won the World Championship titles for the past four years and we have already established an excellent working relationship with its engineers, since our partnership was announced at the 2013 Monaco Grand Prix.
"Joining forces with Renault also means that, within the framework of the Sporting Regulations, we can once again enjoy synergies on the technical front with our colleagues at Red Bull Technology.
"With all these changes, some that affect everyone, others that are specific to Toro Rosso, it is really difficult to set targets or make predictions. However, it is clear we have to improve our performance and make a step forward."
The Sky Sports F1 Online team will be providing live commentary of all three winter tests, starting in Jerez on Tuesday January 28, with live updates from trackside also on Sky Sports News.