Russian rookie Daniil Kvyat is youngest points scorer on F1 debut in Australia
Nineteen-year-old lowers Sebastian Vettel's 2007 record
By James Galloway
Last Updated: 16/03/14 1:57pm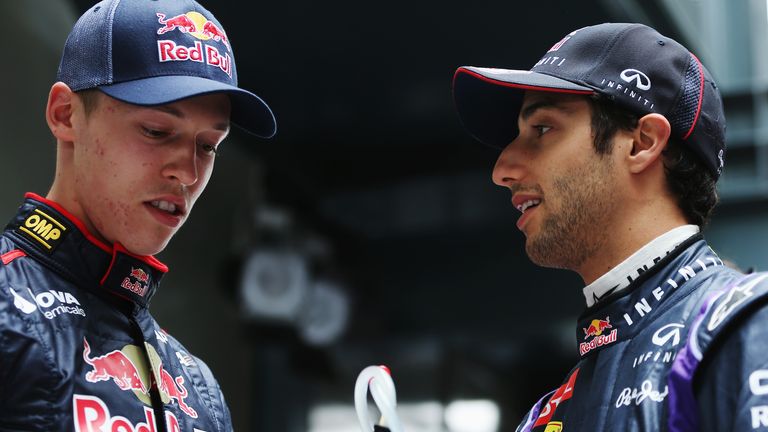 The 19-year-old Russian, who became the sixth-youngest driver to start a F1 race on Sunday, capitalised on making Q3 at the first attempt to run solidly in the top ten throughout the 57-lap race as Toro Rosso maintained their surprisingly strong form.
Having run on the tail of 2007 World Champion Kimi Raikkonen through the middle of the race, Kvyat eventually had to settle for tenth place - three seconds behind more experienced team-mate Jean-Eric Vergne, with the Russian having gone into fuel-conservation mode in the closing stages. That later became ninth when Daniel Ricciardo was excluded from the results.
Significantly, the points-paying result was enough to break former Toro Rosso driver, and current World Champion, Sebastian Vettel's seven-year-old benchmark for the youngest points scorer in F1 history. Kvyat at 19 years and ten months is slightly less than a month younger than the German was when the finished eighth in a one-off appearance for BMW at the 2007 U.S. GP.
"It was a very intense afternoon and finishing my first race with a point is a great feeling," Kvyat, the reigning GP3 Champion, said.
"It was a fantastic first Grand Prix weekend with the team, everyone worked really hard and scoring points was a great way to end it.
"I never expected to score a point in my first race, so it feels amazing. It's a real boost for us and now we have to keep on working hard and if we keep on the way we are going, then we can look forward to a really positive season."
Kvyat took particular pleasure from being able to match Raikkonen's pace, although accepted his STR9 didn't have quite enough speed to overtake the Ferrari.
"We managed to keep the rhythm really high and I was as competitive as Raikkonen today in terms of our speed," he enthused to Sky Sports F1.
"We could really attack, we were just missing some speed to overtake him really. But in the end I'm still happy with my first races and for a debut race it was not too bad.
The five youngest points scorers in F1 history:
1. Daniil Kvyat, 19 years, 10 months & 18 days - 2014 Australian GP.
2. Sebastian Vettel, 19 years, 11 months & 14 days - 2007 U.S. GP.
3. Jaime Alguersuari, 20 years, 0 months & 12 days - 2010 Malaysian GP.
4. Jenson Button, 20 years, 2 months & 7 days - 2000 Brazilian GP.
5. Ricardo Rodriguez, 20 years, 4 months & 3 days - 1962 Belgian GP.