Questions for the Abu Dhabi GP
Does the race now live up to its surroundings? How will Daniil Kvyat react to the spotlight? And what's happened to Mark Webber?
By James Galloway, William Esler, Mike Wise and Sky Bet's Jamie Casey
Last Updated: 31/10/13 10:10pm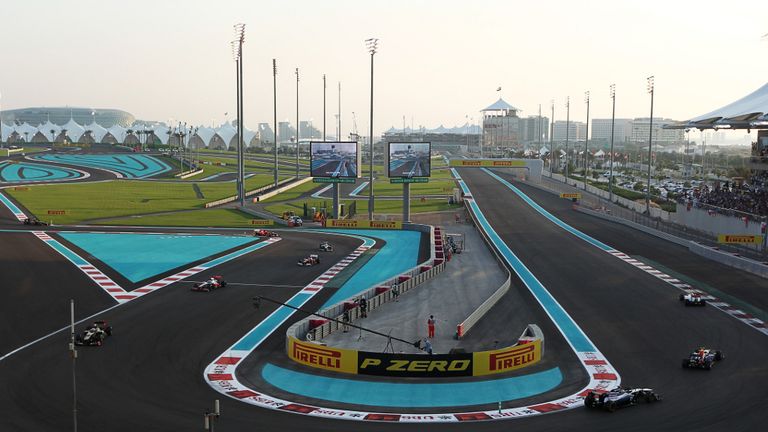 Will Abu Dhabi build on last year's breakthrough?
To underline just how quickly the term 'new' is attached to something in the ever-evolving world of Formula 1 and then becomes redundant, this weekend marks the fifth anniversary of the Abu Dhabi GP. Half a decade in and some things about the expansive Yas Marina circuit on the man-made Yas Island certainly don't change: in terms of facilities and high-tech excellence, the venue remains unsurpassed on the calendar. However, if the nature of last year's 55-lap race is poised to prove a trend, arguably only now is the circuit beginning to marry style with racing substance.
Up until 2012 the track, for all its £800m-worth of expense, was widely derided as producing sterile racing. Indeed, Fernando Alonso's title-losing failure to overtake Vitaly Petrov in the 2010 Championship decider and Mark Webber's mocking description of the 5.5km layout as being akin to a 'car park' were probably the two most memorable things about the event, aside from the LED-lit Yas Hotel that straddles the track. But last year it was finally the racing that left an indelible mark on the mind at the end of the weekend: a chaotic cocktail of passes, collisions, penalties, Safety Cars and a pitlane to podium charge from Sebastian Vettel all topped off by that Kimi Raikkonen radio message made Abu Dhabi 2012 probably the best race of the year.
Of course, any grand prix circuit can benefit from such a perfect storm every now and again - Hungary 2006 being a case in point - but certainly the back-to-back DRS zones that were first introduced the year before, which feed into the twisty go-kart track-style second half of the lap, have belatedly served to spice up the spectacle. Formula 1 could do with some more of that again. While there's been much to admire about Sebastian Vettel's post-summer break march to yet another title, if truth be told the campaign has been increasingly short of truly memorable races - Silverstone in June was probably the last and that was largely for all the wrong reasons. So should it facilitate a repeat of last year's epic come Sunday then the Yas Marina circuit might finally come of age.
JG
What can we learn about Daniil Kvyat's mentality this weekend?
As if heading to Abu Dhabi with a chance to win the GP3 championship wasn't enough pressure for a 19-year-old, Daniil Kvyat will find himself thrust into an unfamiliar spotlight this weekend having been, against all expectation, confirmed at Toro Rosso in 2014.
The MW Arden driver currently sits second in the Drivers' Championship, just seven points behind Facu Regalia, and is many people's tip - including my own - for the title. Numerous drivers have crumbled under the pressure at crunch-time in a Championship - particularly if it is as prestigious as GP3 on the junior ladder - and how he deals with the weight of expectation, coupled with attention from the F1 media, should give us an insight into how mentally strong the youngster is. In a world where everything is analysed to the nth degree and social media allows instant critique to be delivered to the palm of your hand, the ability to shut it out and focus on the task at hand has never been more essential.
Another side of Kvyat we should learn more about this weekend is how mature the Russian is. As a teenager, it would be easy to get carried away with your newly-conferred status and start to look beyond GP3 to a glamorous new life in F1. But to win this year's title he'll need to stay 100 per cent focused on the job in hand. If he repeats his Monza exploits of taking pole by half a second before going on to dominate the race, not only will it prove to doubters why he deserves a place in F1, but also show he has been mature enough to keep his feet on the ground.
WE
Whither Webber?
If Sebastian Vettel is F1's current pantomime villain then a lot of people must have been hoping that Mark Webber's switch to sportscars, which was announced in June, would induce some sort of response to his team-mate's dominance. Might the Australian, watching the F1 clock start to tick down and realising that it really is now or never, somehow summon the wherewithal to mount a concerted challenge at last? Would any festering resentment over the outcome of the Malaysian GP, not to mention previous perceived slights, be channelled into the sort of performances that would suddenly leave Vettel a dribbling mass of vexation? Could Webber's renaissance cause already delicate fissures within Red Bull to burst back open with such explosive force that he might simply decide to burn his bridges, turn to offer a laconic 'Up yours, mate' and ride into the sunset with the flames of enmity warming his back?
Not on the strength of what we've seen since, it must be said. Webber has, if anything, appeared even more resigned to his ultimate fate, a bit like a hoary old cowboy with his head in the noose waiting for the gunfire to frighten his steed. Vettel was to be found prostrate in front of his after wrapping up his fourth successive world title in India at the weekend; his sixth successive race victory also means he has accrued more points since the summer break than Webber has managed all season. Never mind one last bid for all-or-nothing glory: what we've seen instead is the team-mate assuming newfound status as a legend of the sport. Little wonder Webber admits he's not having as much fun these days.
The last two races have, at least, seen Webber right up there - albeit still some way behind Vettel who, one would assume, now has his sights set on a clean-sweep of the remaining races. It would appear the best hope Webber has rests upon mechanical intervention of some kind - something he himself has fallen foul of all too often in the past - but think back to the 2011 Abu Dhabi GP when a puncture caused Vettel's retirement. Remember also the next race in Brazil, where gearbox problems for the World Champion allowed Webber through to win. Can he depart for good this time with victory on his own terms?
MW
It's nip and tuck for second place in the Constructors' Championship; what will happen this weekend?
Yes, yes, we know: there's a degree of straw-clutching in posing this question and we're sure some of the teams in contention might - deep down - agree. Second place? For both Mercedes and, particularly one suspects, Ferrari, that must seem like an indignity, an affront; crumbs from the high table yet again. Less so for Lotus, who are hovering, but with Red Bull having wrapped up another constructors' title, it's natural that eyes should be cast to the next rung down in the search for a sporting battle - and what a ding-dong battle it is, with Mercedes nipping back ahead of Ferrari in India last weekend. So if we can suspend disbelief until the end of November and pretend that this really matters, let's consider which team might stand second come Sunday night - and who might be there come Brazil?
As with any battle, each side has its own particular virtues; Mercedes have, in general, held the performance edge but Ferrari have been more consistent while Lotus go particularly well where it's hot - let's not forget they won this race last year. And it's not as though the teams have any more hardware to chuck out there: back at the factories, attentions are well trained on 2014, meaning they will have to try and extract the most from what they already have.
Ferrari have become well-versed in doing just that in recent seasons, so might that give them the edge? Could Mercedes get distracted by the intense speculation about Ross Brawn's future? And will two become three? Lotus stand only 24 points behind Ferrari and are clearly no slouches themselves, but will last weekend's handbags produce any fallout? 'Best-of the-rest' might seem a pretty worthless mantle to some, but given Lotus's financial difficulties it would surely mean an awful lot to them.
MW
Can Red Bull be beaten in any respect?
As far as the fastest pit stop records go, it would appear that Red Bull have slipped off the pace in one area at least. The Milton Keynes-based team have not set the fastest pitstop in six races, their last coming at Hungary. Before Budapest, Red Bull had topped the pile in seven of the opening 10 races and it is somewhat ironic that their pit crew's drop in pace has coincided with Sebastian Vettel's six-race winning streak.
Perhaps the German's unbeatable track speed has bought his pit crew extra seconds to perform with care, or caused a minor bout of complacency. Whatever the reason, Ferrari have been eager to make up whatever ground they can, so much so that they've produced the fastest pitstop in three of the last six races, including last time out in India.
Sky Bet make Fernando Alonso 9/2 to record the fastest pit stop while team-mate Felipe Massa is slightly longer odds at 5/1. Despite Red Bull's barren run in this respect, Vettel is the favourite (5/2) ahead of Mark Webber (3/1). However, the Mercedes crew have been almost as sharp as Ferrari of late, accounting for two of the other three since Hungary, while Nico Rosberg produced three of the top five fastest times in Japan, including the quickest - he's 9/1 to set the quickest pit stop in Abu Dhabi, with Lewis Hamilton a 10/1 chance. JC