Kevin Magnussen drops out of Belgian GP points for squeeze on Fernando Alonso
Button promoted to sixth, Alonso seventh & Hulkenberg to final point
By James Galloway and Mike Wise
Last Updated: 24/08/14 7:51pm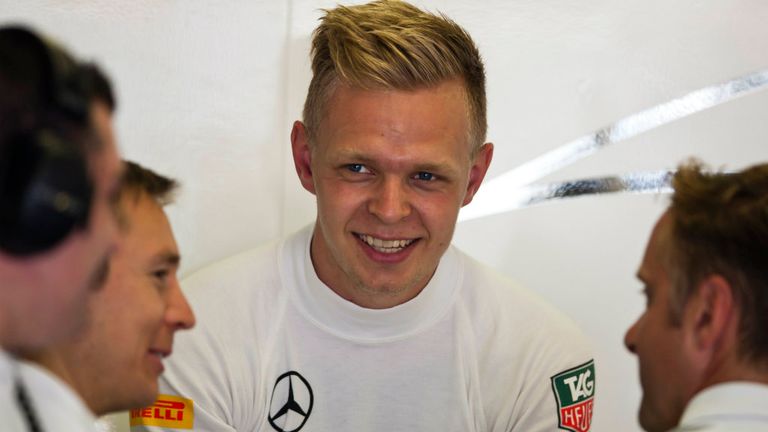 McLaren's Kevin Magnussen has been demoted from sixth to 12th and out of the points in the Belgian GP after stewards handed the Dane a time penalty for forcing Fernando Alonso off the track.
The 21-year-old rookie and Ferrari's Spanish veteran were engaged in an increasingly tight duel in the closing stages of Sunday's race with Alonso, recovering from an early five-second time penalty after his mechanics were on the grid beyond the pre-race warning, unable to find a way past Magnussen's defences.
Having been caught by the other McLaren of Jenson Button and Red Bull's Sebastian Vettel, Alonso attempted to go down the inside of Magnussen going down the 305kph Kemmel Straight with four laps to go but was forced onto the grass by his rival.
Alonso ultimately finished two places behind Magnussen in eighth place on the road after being passed by both Vettel, who he later hit at La Source, and Button, but was promoted back up to seventh after stewards imposed a retrospective drive-through penalty equating to 20 seconds on the lead McLaren after the race.
"The driver of car 20 [Magnussen] was defending his position on the straight between turns four and five, and significant portion of car 14 [Alonso] was alongside car 20," the stewards' ruling read.
"The driver of car 20 did not leave enough space for car 14 and forced the car off the track."
The stewards' decision meant Button was promoted to sixth, with Alonso moving up to seventh. Force India's Nico Hulkenberg was promoted to the final points-paying position after Magnussen was relegated to 12th.
Magnussen was also punished with two penalty points on his Super Licence, bringing his 2014 tally up to four.
Revised Belgian GP top ten
1. Daniel Ricciardo – Red Bull.
2. Nico Rosberg – Mercedes.
3. Valtteri Bottas – Williams.
4. Kimi Raikkonen – Ferrari.
5. Sebastian Vettel – Red Bull.
6. Jenson Button – McLaren.
7. Fernando Alonso – Ferrari.
8. Sergio Perez – Force India.
9. Daniil Kvyat – Toro Rosso.
10. Nico Hulkenberg – Force India.