Milan leapfrog Udinese
AC Milan leapfrogged Udinese to move to eighth in Serie A thanks to a 1-0 win at the San Siro.
Last Updated: 19/10/13 10:21pm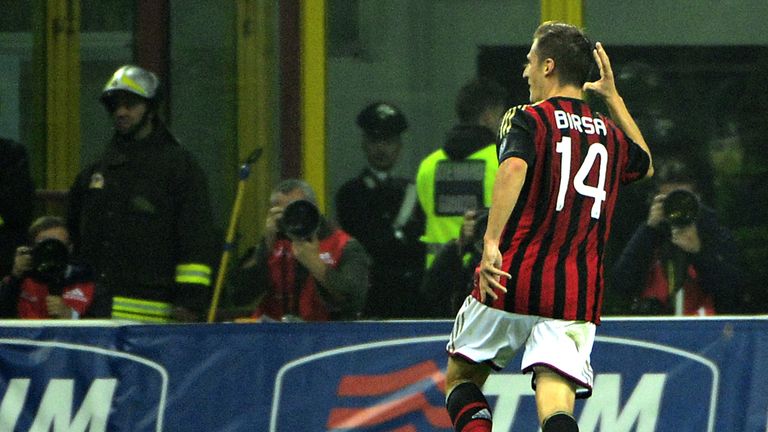 AC Milan leapfrogged Udinese to move to eighth in Serie A thanks to a 1-0 win at the San Siro.
Valter Birsa's 22nd-minute strike was enough to earn the Rossoneri only their third win of the season - all coming at home - and edge them closer to the top five, inflicting Udinese's fourth defeat of the campaign.
It was also a decent warm-up for Massimiliano Allegri's men ahead of a Champions League clash with Barcelona on Tuesday.
Without the injured Mario Balotelli, who is also doubtful for Tuesday night, Allegri resisted the temptation of hastening Kaka's return from injury although the Brazilian did take his place on the bench.
With the first foggy evening of the autumn in Milan, that was hardly an ideal place for him to keep his muscles warm, and indeed the two teams appeared to be a little cold with the game in need of a spark.
Birsa tried to provide it with the first shot of the evening, saved easily by Ivan Kelava, before the former Genoa midfielder opened the scoring midway through the first half.
He picked up the ball 20 yards from goal and curled a left-footed shot away from Kelava's reach, nestling in the top right-hand corner.
The Rossoneri may have made the breakthrough but they certainly did not look fully in control of the game, especially not in the early exchanges of the second half.
The Zebrette finally started to put Milan's 21-year-old goalkeeper Gabriel to the test, with Antonio Di Natale predictably leading the way.
In the 63rd minute, the rookie goalkeeper responded in style, getting his fingertips to Di Natale's free-kick to get just enough of a touch to divert the ball onto the top of the crossbar.
Kaka then made his long-awaited return to the San Siro, setting foot on home turf in a Milan shirt for the first time since May 2009 and giving the home fans something to cheer - although there still remained more concern among the fans as Udinese continued to threaten an equaliser.
Muriel probably should have provided it in the 84th minute when he failed to take the ball in his stride when presented with just Gabriel to beat, Ignazio Abate recovering to put the Udinese forward off as Milan held on for a morale-boosting win.