World Cup 2014: Argentina book semi-final spot with 1-0 win over Belgium in Brasilia
Last Updated: 06/07/14 11:03am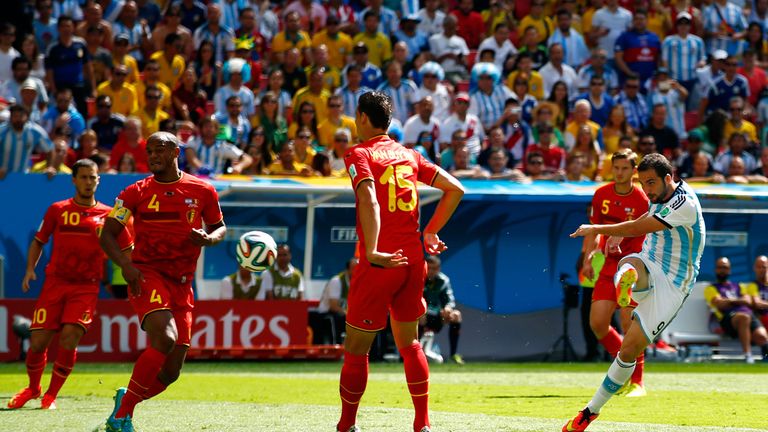 Argentina are through to the semi-finals of the FIFA World Cup after beating Belgium 1-0 at the Estadio Nacional in Brasilia on Saturday.
Gonzalo Higuain's eighth-minute strike proved to be the telling contribution as Argentina made it through to the World Cup semi-final stage for the first time since 1990.
They will now face the Netherlands in Sao Paulo on Wednesday after becoming the third side to book a semi-final date, with Germany and Brazil progressing on Friday.
The lone caveat for Argentina was an injury to influential midfielder Angel Di Maria that forced him off in the first half and may yet deny him a chance to play in the semi-final.
All five of Argentina's victories in the competition have come via a one-goal margin and so often it has been Lionel Messi that has provided the telling contribution.
Indeed, the Barcelona playmaker was influential throughout for Alejandro Sabella's side, but it was an instinctive strike from Napoli striker Higuain that decided the tie.
Messi started off playing deep, seeing plenty of the ball and creating some good positions for his team-mates.
One such move put Ezequiel Lavezzi clear on the right and only Vincent Kompany's alert intervention prevented a goal.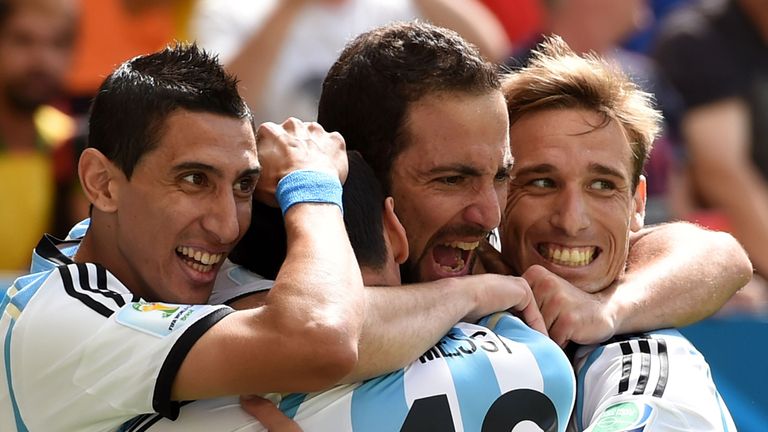 It took less than eight minutes however for Argentina to take a huge step towards the semi-final and it was Messi, twisting and turning in midfield, who was the architect.
His incisive pass to Di Maria was diverted to Higuain, taking a nick off a defender which caused the ball to bounce up for the Napoli striker to swivel and thump a first-time shot low into the corner from 25 yards out.
Belgium attempted to make some headway but Argentina immediately dropped back into two banks of four whenever they lost possession and when the Red Devils did get into good positions, they failed to make use of them.
Jan Vertonghen put in a stunning cross but not a single red shirt tried to reach it, and Argentina cleared it unchallenged.
Kevin de Bruyne nearly surprised Sergio Romero with a shot with a short back-lift, and the rebound from the save only just eluded Divock Origi.
A dream of a pass from Messi sliced through the Belgian ranks for Di Maria but Kompany did brilliantly to get back to block him - and the Real Madrid winger injured himself while taking the shot and had to be replaced by Enzo Perez.
Messi was crudely halted when close to dribbling through a pack of red shirts on the edge of the Belgium area, and then fizzed the free-kick over the top.
Belgium's best chance of the first half came just before the break when another Vertonghen cross this time found De Bruyne, but his diving header bounced wide.
The second half was strangely muted given what was at stake, with Argentina happy to keep things tight and Belgium failing to make much impression.
Higuain cut in and drilled in a low effort that deflected off Daniel van Buyten and past the near-post with Thibaut Courtois stranded, then the Lazio striker sped into the Belgium half, nutmegged Kompany while at full speed, and fairly belted a shot that smacked the top of the bar.
Marouane Fellaini, who had spent most of the match being bypassed by Messi, failed to make up for it when another Vertonghen cross picked him out, the Manchester United player heading over.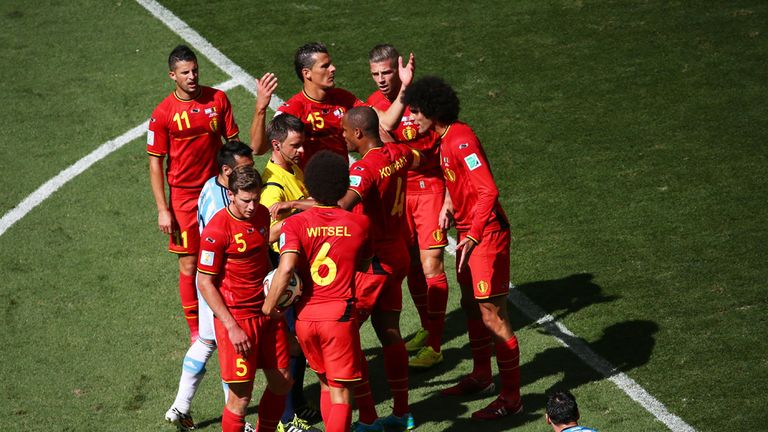 Eden Hazard was equally disappointing, his main contribution being booked for going in high on Lucas Biglia - on another day it could have been red - and he was replaced by Nacer Chadli in the 75th minute.
In a mirror image of Higuain's deflected miss, De Bruyne had a slow shot deflected just wide.
In the closing minutes, Marc Wilmots went for broke by pushing his tallest players, Fellaini and Van Buyten, up front as extra strikers and Belgium threw the kitchen sink at Argentina but the South Americans held out against the aerial bombardment, with substitute Romelu Lukaku and Axel Witsel coming closest.
There was time too for Messi to break clear and sprint in on Courtois. The world waited for what looked an inevitable goal but Messi's attempted finish was brilliantly blocked by the Belgium keeper, even if it mattered not to the final outcome.