Champions League: Marco Reus set to return for Dortmund against Zenit
Borussia Dortmund hope to have Marco Reus back in their side when they face Zenit St Petersburg on Wednesday night.
Last Updated: 21/03/14 11:26am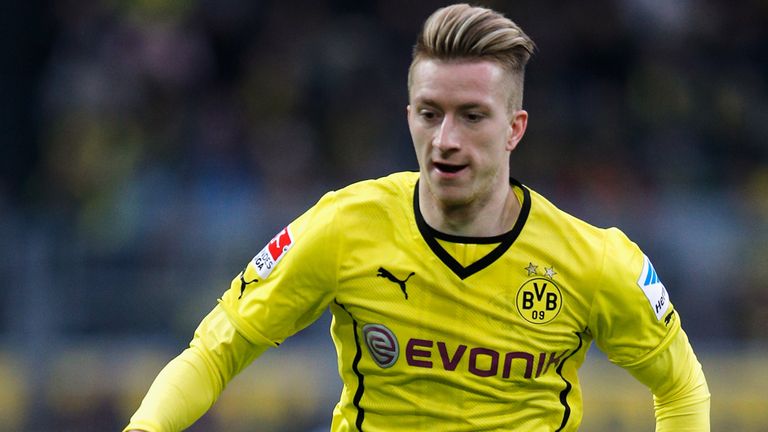 Borussia Dortmund hope to have Marco Reus back in their side when they face Zenit St Petersburg in the Champions League on Wednesday night.
The Germany international has missed Dortmund's last two games due to muscular problems, but he is set to return for the second leg of the tie which is firmly in the Bundesliga side's hands.
"We hope he'll be back," said Dortmund's director of sport Michael Zorc to Kicker magazine. "His injury is pretty much healed so we can consider playing him."
Dortmund are favourites to take a place in Friday's quarter-final draw after winning 4-2 in Russia.
They also seem to be getting a step ahead of themselves already with goalkeeper Roman Weidenfeller discussing who he would and would not like to meet in the last eight before the ball even rolls at the Westfalenstadion.
"It's a European competition and we could do without an all-German duel, for as long as it's possible," he said.
"I've never played against Barcelona before and that would be a huge challenge, to play at the Nou Camp. I would like that experience, although not necessarily in the quarter-finals.
"Olympiacos would be something. The last time we played in Piraeus, we didn't look very good so we definitely have something to put right there."
Dortmund first need to navigate successfully through the remaining 90 minutes on Wednesday night, although few really expect the Russian side, who parted company with Luciano Spalletti last week and have appointed Andre Villas-Boas as their new coach from Thursday, to turn the tie around.
Zenit lost further ground at the top of the Russian Premier Liga at the weekend under the guidance of caretaker coach Sergey Semak, who will take his pew at the Westfalenstadion for the second and last time on Wednesday.
Former Porto, Chelsea and Tottenham Hotspur coach Villas-Boas will sign a two-year contract to replace him on Thursday, once Zenit's Champions League trip to Germany is over, but Nicolas Lombaerts says it is the players who now have to make the real change.
"If the coach is fired, the players should look at themselves," he said on the Russian club's official website.
"In the end, if he was fired, then we are one of the main causes. But we have to move on. We're playing for Zenit so we have to do everything to get back on top."