Barcelona & Lionel Messi meet Atletico Madrid and Radamel Falcao in blockbuster clash
Barcelona and Lionel Messi meet Atletico Madrid and Radamel Falcao in a blockbuster Primera Liga clash this weekend.
Last Updated: 14/12/12 9:22pm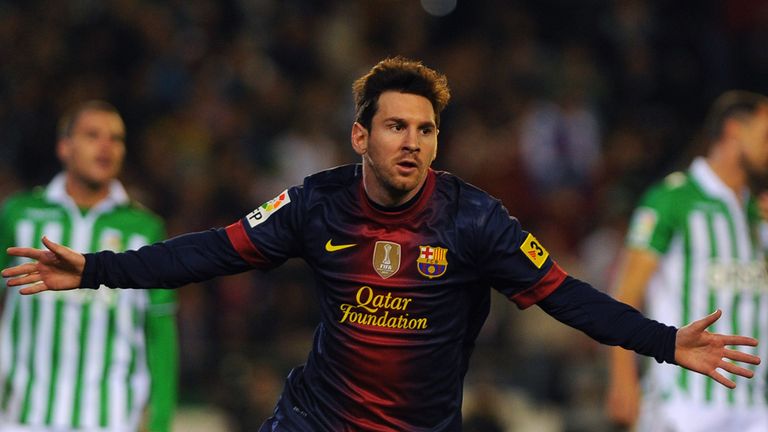 Barcelona and Lionel Messi meet Atletico Madrid and Radamel Falcao in a blockbuster Primera Liga clash this weekend.
The South American duo have lit up La Liga this season with a combined 39 goals after just 15 games.
Argentina star Messi has weighed in with 23 of those to help his tally for 2012 swell to a record-breaking 88 and counting, while Colombia hitman Falcao has 16 league goals to his credit - five of which came in last weekend's demolition of Deportivo La Coruna.
Messi's goals have been crucial to Barca's flying start to the season under Tito Vilanova, with the Catalans still unbeaten ahead of their encounter with a side who trail them by six points after losing two of their last six matches.
Despite Messi's searing form, Atletico head to the Nou Camp in bullish mood with goalkeeper Thibaut Courtois boldly telling reporters: "Do I fear Messi? No, no, I am not afraid of anyone.
"He is a great player and we respect him very much, but there is no fear.
"Now we are focused and the team wants to do their best at the Nou Camp. Barcelona have a very good group of players."
Whether the on-loan Chelsea goalkeeper comes to regret those words remains to be seen, but Atletico at least have the comfort of not having to face midfielder Cesc Fabregas, who has been ruled out until January with a hamstring injury.
The supply line to Messi remains formidable, however, with Andres Iniesta and Xavi still marshalling the midfield, and team-mate Javier Mascherano is in no doubt about the class of the record-breaking forward.
"With regards to football, he is a killer. He takes to the pitch to collect victims. He likes to play football and does not care who is in front of him," Mascherano told El Mundo Deportivo.
"He competes against himself. This is a great virtue and he has reached that level when is now more like a golfer than a footballer - every day he wants to lower the handicap."
Mascherano added: "The biggest weapon of this team is the desire to play football. People like Xavi, Messi and Iniesta have passed on this attitude to the team and it is producing results."
Xavi, meanwhile, expects a tough test against their nearest challengers and unsurprisingly picked out Falcao as the man most likely to take the game to the hosts.
"The match against Atletico is one of the most attractive games in La Liga," Xavi told a press conference. "This season they haven't lost many games and they have a player like Falcao, who makes the difference."
Falcao was once again not risked in the Copa del Rey in midweek as Atletico eased to a 3-0 first-leg win over Getafe at the Vicente Calderon.
Diego Costa was again the star man in the Colombian's absence with two goals, offering up a timely reminder that the capital club are far from a one-man band.
And Atletico coach Diego Simeone has lauded the Brazilian for his contribution to the team so far this season.
He told the club's website: "Diego is very important for the team.
"He relieves pressure a lot, is brave and is a strong player who is difficult to mark. He is in a good moment which he deserves because he is working for it."