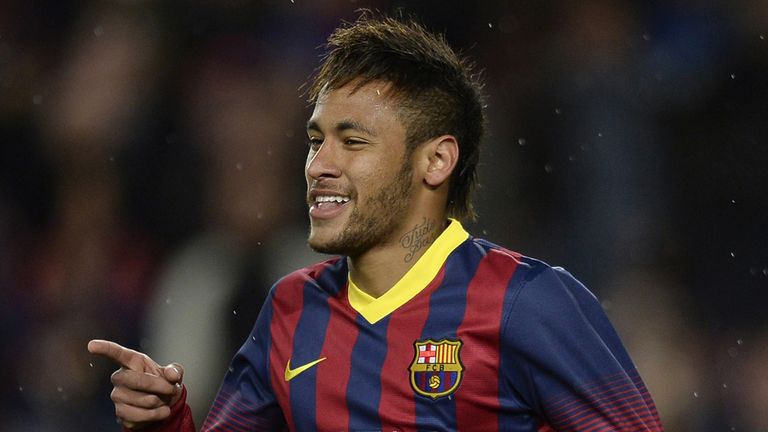 Goals from Neymar and Lionel Messi meant Barcelona kept the pressure on title rivals Atletico and Real Madrid with a comfortable 3-0 win over Celta Vigo.
But the evening turned sour when Victor Valdes was carried off with a serious knee injury that could end his Barca career and rule him out of the World Cup.
The goalkeeper struggled to hold on to a free-kick from Fabian Orellana midway through the first half and landed on his right knee as he gathered the ball, and was seen crying as he was taken off the pitch, replaced by Sergio Pinto.
It could be Valdes' last appearance for the club, with the player set to depart Barcelona in the summer when his contract runs out.
Neymar had given the Catalans the lead after six minutes, and Messi doubled the advantage on the half hour, before Neymar struck again midway through the second period.
Messi thought he had put the hosts ahead with just three minutes played, but his close range effort was ruled narrowly offside.
Barca did not have to wait long before scoring a legitimate goal, however, Neymar appearing at the far post to nudge in a pass across the face of goal from Alexis, facilitated by quick passing by Andres Iniesta and Messi.
Adriano then attempted a trademark left-footed drive from outside the area, but on this occasion he was unable to cause much trouble to the goalkeeper.
In the 15th minute Barca produced a move worthy of a goal. Adriano took on a defender down the right wing before releasing Alexis, who then found Messi, but the Argentinian's final ball was a touch too long for Neymar to get on the end of at the far post.
The Nou Camp fell silent when Valdes was injured in the 22nd minute, struggling to deal with a free-kick that had initially been awarded as a penalty for a handball by Adriano, although referee Miguel Angel Ayza gamez soon corrected himself when realising the incident had taken place outside the area.
But Messi soon lifted the mood by doubling the lead, getting on the end of a low through ball by Iniesta to take the ball around Yoel Rodriguez and tuck it into the bottom corner.
Valdes's replacement Pinto made a fine double save in the second half, first keeping out a header from Augusto Fernandez and then thwarting Santi Mina on the rebound.
Neymar then added his second goal of the night, receiving a long ball from Alexis inside the area and powering a shot past Yoel.
It was a fine response from the Brazilian, who was criticised by former Barca player and coach Johan Cruyff earlier in the day for destabalising the team's dressing room as a result of his controversial move from Santos to the Catalan club last summer, which lead to Sandro Rosell resigning as president last January.