France held Belgium to a goalless draw in Brussels
Belgium and France shared a goalless draw in an open game at the Stade Roi Baudouin in Brussels.
Last Updated: 14/08/13 10:45pm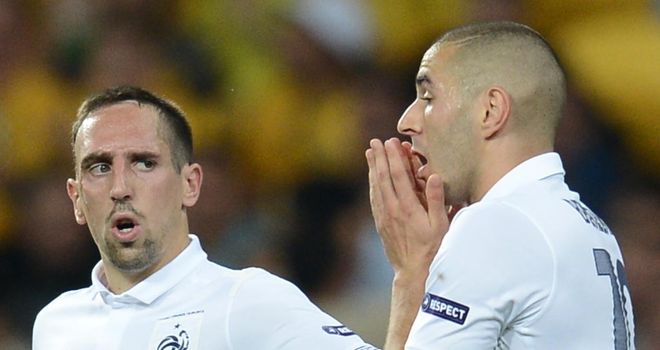 Both sides were committed to attacking although neither goalkeeper was really called into action.
The hosts carved out plenty of chances but they were profligate in front of goal, while Karim Benzema found himself in good positions but he could not convert that into goalscoring.
It was a match that saw the hosts start with four Premier League players in Vincent Kompany, Romelu Lukaku, Eden Hazard and Marouane Fellaini with Christian Benteke coming on in the second half.
PSV Eindhoven teenager Zakaria Bakkali missed out after suffering a thigh strain in training while Tottenham midfielder Mousa Dembele was on the bench after being doubtful with an ankle injury. Spurs defender Jan Vertonghen was absent.
Bacary Sagna and Laurent Koscielny started for France while Samir Nasri featured in the second half.
Also returning was Eric Abidal, a summer signing for Monaco after his release from Barcelona.
The defender started against the Red Devils - his first international appearance since last February, having battled cancer and undergone a liver transplant.
The hosts started well with Hazard forcing a save from Hugo Lloris and Kevin De Bruyne heading over.
Benzema and Dimitri Payet both responded for France, although neither seriously threatened the goal.
Axel Witsel's shot was blocked with Hazard's effort on target comfortably held by Lloris.
Thibaut Courtois was called upon to parry Mathieu Valbuena's corner before Franck Ribery fired over.
Sebastien Pocognoli's free-kick was blocked by Benzema and De Bruyne fired wide as the first half ticked down.
Benzema fired over as half-time approached following 45 minutes where there had been plenty of action but no real attempts on goal.
Hazard shot over the bar and Witzel fired wide from De Bruyne's corner with Valbuena responding in kind as his shot was blocked by Vincent Kompany.
Benzema's volley was intercepted by Courtois before both Toby Alderweireld and Kevin Mirallas fired over, the latter when just six yards out.
Etienne Capoue produced a weak shot for France while Mirallas' effort was easily dealt with by Lloris.
Olivier Giroud fired over for the visitors but that was the last of the action as the match finished goalless.
The draw means that France halt a run of three straight defeats while Belgium have still only lost three of their last 29 matches.