World Cup qualifying: Wales boss Chris Coleman calls for realistic assessment
Chris Coleman has demanded a realistic assessment before he makes a decision on extending his tenure as Wales manager.
By Ben Hampshire - Follow me: @BH92
Last Updated: 16/10/13 6:52am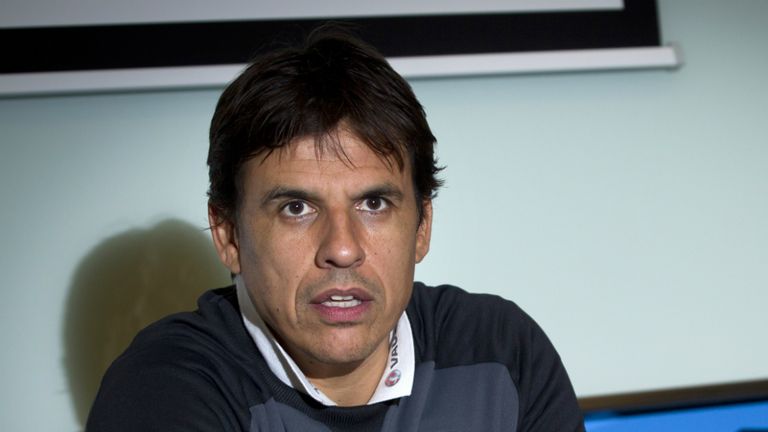 The 43-year-old took the helm from his late friend Gary Speed in 2012 and is now taking time to consider his future after claiming a late point in Belgium in Wales' final World Cup qualifier.
A disappointing campaign saw Wales finish fifth in Group A, although Tuesday's performance in Brussels showed great promise, but Coleman believes the entire qualification process must be assessed.
Since taking charge, the Welshman has guided his side to victory over Macedonia before thwarting a free-flowing Belgium side on home soil but the manager warned against a knee-jerk reaction.
"We will enjoy tonight and I know my contract ends in November and I am always looking long term and the bigger picture," he told Sky Sports.
"I won't change what I have said, I'm here for the Finland game and then after that I'll look at everything and decide whether I am the man going forward.
Realism
"Maybe someone else will decide that before I do, I don't know. We'll enjoy tonight and enjoy these last 10 days but I'm just really proud of the players, they have been fantastic.
"I don't want people to judge me on these two games, I want people to be realistic and look at the whole campaign and the problems we have faced."
Coleman admits the start to the qualification campaign was not ideal but insists if he is to remain in charge of Wales then he wants to be part of a long-term vision.
"The two performances against Serbia just weren't good enough and I accept that but I don't want to be involved in something that is fickle and short term," he added.
"I want to be involved in something that is long term, you can't judge me on two games, we've won one and drawn one, that doesn't mean I'm the best manager going forward.
"We have to see what I can do and what the players can do when we have a full squad and when we don't. I just want a bit of realism."
Spirit
"I want Wales to succeed and if I don't think I am the man to do that I will have no second thoughts in stepping down."
The former Fulham manager watched on with delight as skipper Aaron Ramsey clinched a late equaliser against Belgium and hailed the players' desire, especially that of Craig Bellamy, who made his final Wales appearances after 78 caps for the country.
"We had a real good spirit and great belief," he said. "We kept going and again we had a little bit of luck in front of our goal but we kept going and nicked it at the end.
"On one hand we're going to miss Craig [Bellamy], while on the other hand you say hello to the likes of Harry Wilson who came on; sometimes when one door closes, another one opens.
"It was a vital contribution from Craig again and a great finish. It was great, I am delighted for the players.
"Coming into this camp there was a lot of negativity surrounding us but the players have been absolutely first class and it's all about them. They have answered all the questions, they have been magnificent."