Confederations Cup: Brazil v Mexico preview
Brazil captain Thiago Silva insists his team do not view their Confederations Cup meeting with Mexico as a grudge match.
Last Updated: 18/06/13 3:35pm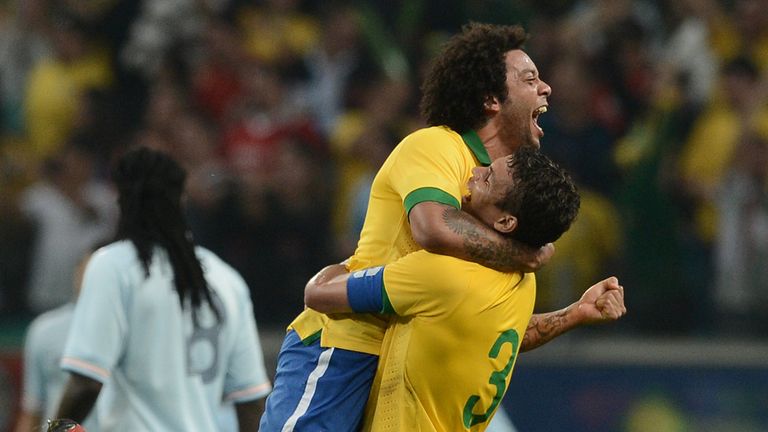 Brazil captain Thiago Silva insists his team do not view Wednesday's Confederations Cup meeting with Mexico as a grudge match after they were beaten to the 2012 Olympic gold medal by their rivals.
Mexico ran out 2-1 winners at Wembley against the Selecao during last summer's London Games, and although the defeat is still a painful one for Silva, he is not treating tomorrow's match in Fortaleza as a chance to avenge that loss.
"It is obvious the Olympics match against Mexico was a very sad moment for us and the entire country, but revenge is not on my mind," said the Paris Saint-Germain defender.
Brazil won their Confederations Cup opener against Japan and another three points on Wednesday would all but see them through to the semi-finals of the tournament.
Mexico need a victory to keep their hopes of progression alive, after losing to Italy in their first match, but boast a good recent record against Brazil with seven wins in their last 12 fixtures.
However, Silva said: "We are calm. They are a great team, with good players too, but this is Brazil and I'm sure Mexico also think they will have difficulties advancing."
The extreme heat in Fortaleza could also pose a problem for the two teams, although Brazil defender Marcelo has played down the concerns.
"We make sure we are hydrated," he said.
"We are used to playing in hot or cold weather. It will not affect us at all."
Mexico coach Jose Manuel de la Torre has come in for criticism over his team's recent performances and a poor World Cup qualifying campaign.
Defeat to Italy did little to ease the pressure, but goalkeeper Jesus Corona has come out in support of his coach.
"The relationship with Chepo (De la Torre) is very kind, open," he said. "We are committed to him.
"We are calm and know we must improve at this present moment. As soon as we achieve that, doubts will vanish.
"Coaches work according to results and we are here to back him."
However, Corona is aware Brazil will prove to be tough opponents and is keeping a particular eye on star striker Neymar.
"Brazil have good, powerful, surprise forwards so we must pay attention to them," he said.
"We must improve our form, with better ball possession. That will be the key to progression."