International friendly: Brazil ready to ring the changes against Zambia
Brazil coach Luiz Felipe Scolari is looking to test out some of his World Cup options in their friendly with Zambia.
Last Updated: 14/10/13 6:12pm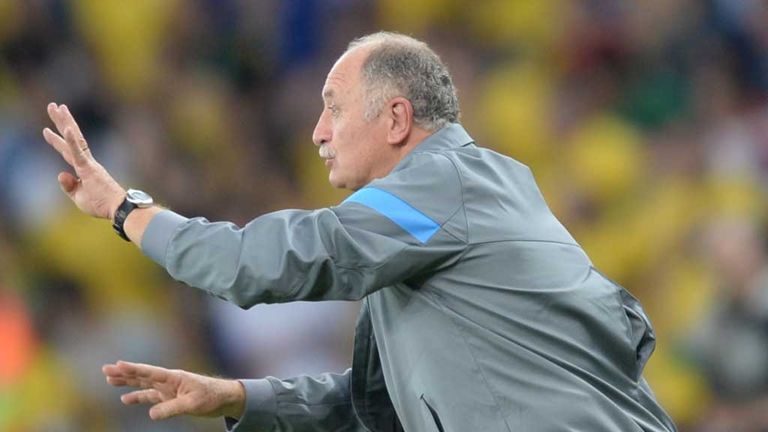 Brazil head coach Luiz Felipe Scolari is looking to test out some of his World Cup options in their friendly with Zambia in China.
The Selecao face the Africans in Beijing - bringing three continents together for what is expected to be an entertaining affair.
Brazil are keen to make sure they have exhausted every option ahead of hosting the main event next summer, and coach Scolari will be running the rule over as many players as possible having already encountered a clash with South Korea in Asia.
He told reporters in China: "I want to field, at least, three players who did not play (against South Korea). As the game carries on, I will also give other players the chance."
Scolari also wants to avoid injuries on what has been a tiring trip.
One of the players who is keen to impress and is likely to start against Zambia is Liverpool's Lucas Leiva.
He told Lancenet.com.br: "I know I don't have many games before the World Cup, but I hope I can take profit from the minutes I am given to play.
"He (Scolari) asked me to repeat what I've been doing at my club team."
Zambia are struggling to put together a side for the clash owing to the fact that a number of their players - namely Stopilla Sunzu, Rainford Kalaba and Nathan Sinkala - have faced some issues over the immigration exit procedure and are facing being arrested.
Namati Nshinka, the immigration department's public relations officer, said: "The trio who were expected to join the squad to face Brazil in an international friendly in Beijing, China, are believed to have crossed into Congo on an unknown date but between Saturday October 12 and Sunday October 13, 2013."
He added that the immigration department had carried out a comprehensive search and discovered the players had left the country without following the correct procedures.
"The search has revealed that any exit made by the players was done illegally as they did not appear before immigration authorities as required by the Immigration and Deportation Act number 18 of 2010," he said.
"In this regard, therefore, the department intends to arrest the players and anyone who may have aided their illegal crossing. We have alerted our officers throughout the country especially those at the borders to intercept the players on sight.
"The department wishes to remind members of the public that Immigration laws do not only apply to foreign nationals but to Zambian citizens also and that the department will continue to enforce the law without fear or favour."