African Nations Cup: Burkina Faso v Ethiopia preview
Ethiopia coach Swenet Bishaw has backed his team's fans ahead of the African Nations Cup Group C game with Burkina Faso.
Last Updated: 24/01/13 5:12pm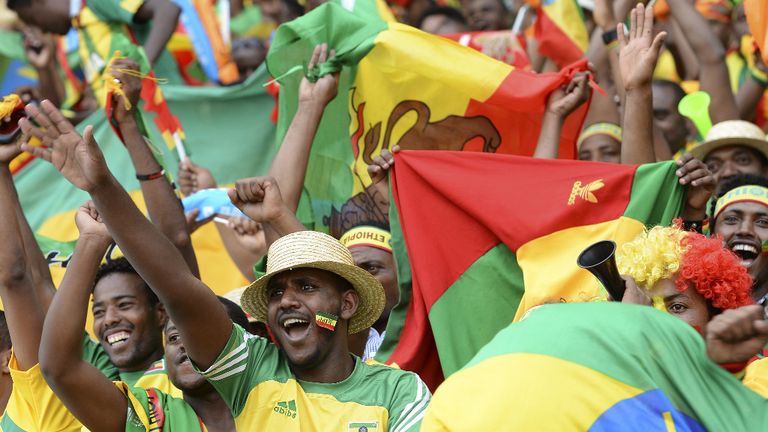 Ethiopia coach Swenet Bishaw has backed his team's fans ahead of the African Nations Cup Group C clash with Burkina Faso, despite the fine imposed for bad behaviour against Zambia.
Ethiopia fans reacted angrily to the sending off of Jemal Tassew, throwing missiles on to the pitch after the goalkeeper was shown a red card while being carried from the field on a stretcher.
Tassew was shown the red card after aiming a flying kick at Zambia's Chisamba Lungu and has been handed a two-match ban by the Confederation of African Football for violent conduct.
The Ethiopian federation was also fined 10,000 US dollars, half of it suspended, after fans threw missiles on to the pitch in protest at Tassew's dismissal.
Bishaw backed the fans, saying: "The reaction of the fans is normal because they are supporting their boys. They want their team to win.
"When things don't go their way, they react," Bishaw was quoted as saying on the tournament website.
Despite the dismissal, which will see Tassew banned for the Burkina Faso game, Ethiopia claimed a draw when Adane Girma scored and Bishaw will look for the same commitment on Friday.
Bishaw believes his players can make their mark in the tournament despite their lack of experience at this level.
He told reporters: "Even though we are new, we are here to challenge every team. As long as we are here as a strong team, why can't we go to the cup final? We will try to reach that."
Burkina Faso coach Paul Put will be looking to build on the 1-1 draw with Nigeria in their opening match of the competition.
Having only gotten out of the group stages once before the West African side need to take a win against Ethiopia after Alain Traore's late goal earned them a point against Nigeria.
Following the draw with Nigeria, Put turned his attentions to Ethiopia.
In quotes on the kickoff.com website, he said: "This was a very good result for us and I am looking forward to the game against Ethiopia."