Three and easy for Bologna
Bologna claimed an important win as they defeated 10-man Cagliari 3-0 at Stadio San Elia on Wednesday.
Last Updated: 31/10/13 9:07am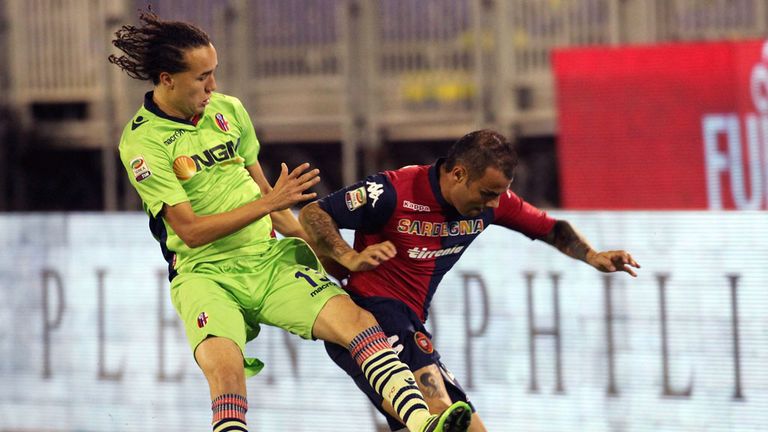 Bologna claimed an important win as they defeated 10-man Cagliari 3-0 in the Serie A clash at Stadio San Elia on Wednesday.
Gyorgy Garics scored the opening goal in the 26th minute
and Cagliari's cause was not helped shortly after the break when Nicola Murru was sent off for his second bookable offence.
The home side were unable to rally and Panagiotis Kone extended Bologna's lead in the 58th minute before Michele Pazienza added the third in a two-minute spell that killed off the game.
The win was Bologna's second of the campaign and their second in succession after the weekend's 1-0 victory over Livorno. It moved them three points clear of third-bottom Catania.
Cagliari saw a couple of early chances go begging when Daniele Conti had an effort blocked and Andrea Cossu put his strike wide.
Diego Laxalt then fired over for Bologna before Murru picked up his first yellow card in the 11th minute.
Garics broke the deadlock with a right-footed shot from the centre of the area, finding the top right corner of Michael Agazzi's goal.
Murru's 52nd-minute sending off spurred Bologna into further action, with Kone and Diego Perez putting efforts wide moments before the former found the back of the net.
Pazienza set Kone up with a through-ball which allowed the striker to beat Agazzi before Pazienza added the third with a header two minutes later.
Daniele Conti went close to pulling a goal back for Cagliari in the 79th minute, but his free-kick struck the bar before Bologna goalkeeper Gianluca Curci denied him again three minute from the final whistle.