Montenegro undone by Czechs
Czech Republic are favourites to qualify for Euro 2012 following a 2-0 first leg play-off success over Montenegro.
Last Updated: 11/11/11 10:52pm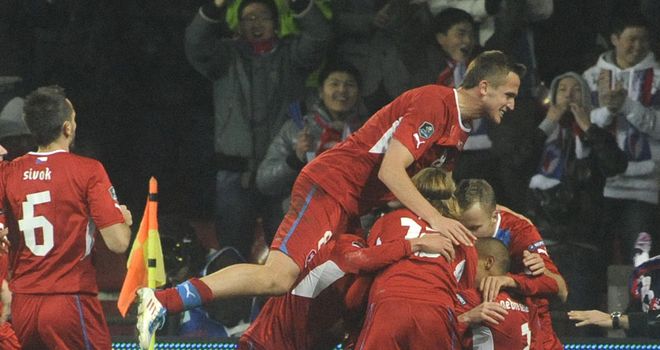 Czech Republic are favourites to qualify for Euro 2012 following a 2-0 first leg play-off success over Montenegro courtesy of goals from Vaclav Pilar and Tomas Sivok.
Czech captain Tomas Rosicky set up Pilar for his debut goal in the national team in the 63rd minute, with the 23-year-old sending a superb right-foot shot across the box and into the net past diving Montenegro keeper Mladen Bozovic.
Besiktas sweeper Sivok added another with a stoppage-time header from Rosicky's free kick that put the Czechs in an even better position ahead of the second leg scheduled for November 15.
Montenegro, who held England to two draws in their qualifying group, created the first scoring chance of the game but Juventus striker Marko Vucinic sent a volley from seven metres above the bar.
The Czechs dominated the first half in the chilly evening with the temperature just above zero centigrade.
Arsenal midfielder Rosicky was the mastermind behind most of their efforts, but his teammates failed to capitalise on his passes in the first half.
Ten minutes from half-time, Petr Jiracek blasted the ball headed by the Czechs' lone striker Tomas Pekhart above the bar from near the penalty spot in the home side's best chance.
Pressure
The visitors put the hosts under pressure as the second half started but a Simon Vukcevic shot from 20 metres was cleared by Czech keeper Petr Cech and Stevan Jovetic sent a volley wide.
Cech was in the starting line-up despite doubts about his health after the Chelsea keeper broke his nose in a clash with team-mate Ashley Cole in Chelsea's 1-0 win at Blackburn last Saturday.
He played with a special carbon-fibre mask - an addition to the headgear he has been wearing following a skull fracture five years ago.
Later in the second half, Jiracek narrowly missed the top left corner of the Montenegro goal as the Czechs started to gain the upper hand.
Ten minutes from time, Pekhart failed to capitalise on a Bozovic blunder as the Montenegro keeper set him up for a header in front of an empty net.
The Czechs are close to making their fifth European championships in a row, while Montenegro, the youngest Uefa member that emerged in 2006 as the country gained independence, are eyeing their first major tournament ever.