Bundesliga: Mirko Slomka delivers stark warning to Hamburg players
Mirko Slomka has warned that Hamburg's existence is at stake over the next fortnight.
Last Updated: 26/04/14 11:27am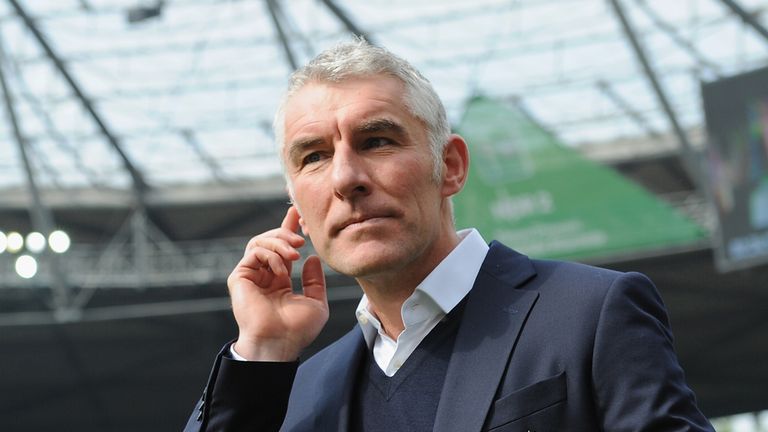 The time for talking is over for Hamburg, whose coach Mirko Slomka has warned that the club's existence is at stake over the next fortnight.
Hamburg have never once been relegated from the Bundesliga, yet with three games of the season remaining, that record is at serious risk.
They currently occupy the relegation play-off berth and are five points adrift of safety ahead of Sunday's trip to Augsburg, while only a single point separates them from Nurnberg and two from bottom-placed Eintracht Braunschweig, who are in action on Saturday.
According to Slomka, these are going to be the most important two weeks in the club's history.
"We're on the final straight now and there are still 30 yards to go," he said.
"I now expect every single player to give everything for their club one more time. It's about more than just winning, it's about the whole thing - the survival of this entire club."
If Slomka is to succeed in keeping Hamburg up, he is going to have to break his own duck this season by picking up points away from home.
The former Hannover coach has lost every single game he has led away from home this season, be it for Hannover or Hamburg.
"I think everybody has finally understood what's at stake," Slomka said, passing the responsibility onto his players.
"The team have got to be able to cope with this pressure."
Augsburg are not going to make it any easier for them, though, with still an outside chance of them qualifying for Europe next season, but only if they pick up three points on Sunday.
"We want to win to consolidate our eighth position and then we will see after the game how far we are still behind seventh," said their coach Markus Weinzierl at a press conference.
"It's an interesting game. Hamburg have admitted themselves that their existence is at stake, and we're going to be prepared for that."