Three and easy for Freiburg
Freiburg moved out of the Bundesliga relegation zone courtesy of a 3-1 home triumph over Werder Bremen.
Last Updated: 21/03/14 10:44pm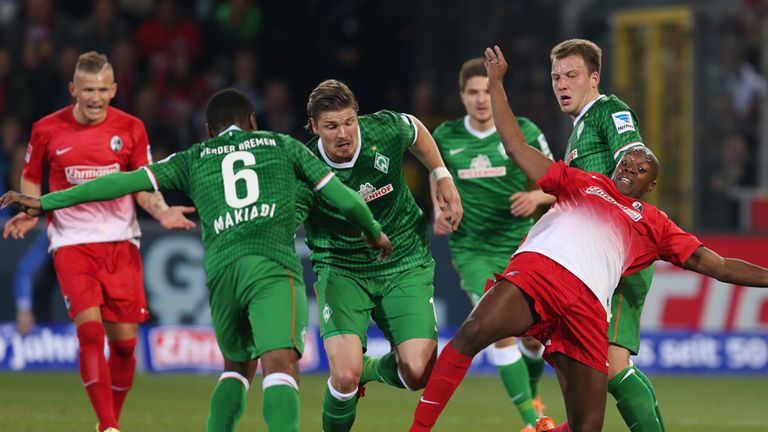 Freiburg moved out of the Bundesliga relegation zone on Friday night courtesy of their second straight win - a 3-1 home triumph over Werder Bremen.
Julian Schuster gave the hosts the lead after 15 minutes, with Felix Klaus adding a second early in the second half.
Admir Mehmedi made it three on the hour mark, with Nils Petersen's 70th-minute strike nothing more than a consolation for Robin Dutt's 12th-placed visitors.
Freiburg headed into the game encouraged by a somewhat fortunate 4-1 win at Eintracht Frankfurt a week ago - a result which allowed Christian Streich's men to reduce the deficit on their opponents to seven points.
That win would have counted for little without a further three points, though, and Streich's side showed how much they wanted another win with a committed start.
Their endeavours were rewarded in the 15th minute when Schuster gave them the lead.
Vladimir Darida prevented Bremen from clearing their lines and the ball fell to the Freiburg midfielder, who did not have to think twice as he sent his shot into the far corner.
Freiburg were then forced onto the back foot, defending their lead as Bremen threatened to hit back.
The hosts were strong and successful in the tackle, though, appearing to be more aware of what was required in a relegation battle.
Slowly, Bremen began to realise they needed to invest more in the game and a Luca Caldirola cross finally sent the ball into the danger area, even if there was no green shirt to meet the ball.
Bremen ended the first half strongly, but were unable to find an equaliser.
Freiburg established a two-goal lead early in the second half when Mehmedi was sent down the left and he pulled the ball back cleverly to Klaus, who had a simple task of scoring.
Six minutes later, the enterprising Mehmedi made it three, converting the loose ball after Klaus' shot was blocked by Assani Lukimya.
Bremen appeared to lose all belief until, 10 minutes later, Aaron Hunt benefitted from a mistake by Matthias Ginter to be released in a one-on-one situation. Rather than shooting himself, he squared the ball for Petersen to tuck the ball in.
The game opened up with Freiburg's two-goal lead no longer looking so secure.
They tried to add a fourth while Bremen pushed for a second, making for an entertaining conclusion, although no further goals fell as Freiburg took the points to move up to 14th.