Gabon v Tunisia preview
First place in Group C is on the line when co-hosts Gabon meet Tunisia in the Africa Cup of Nations on Tuesday night in Franceville.
Last Updated: 31/01/12 11:35am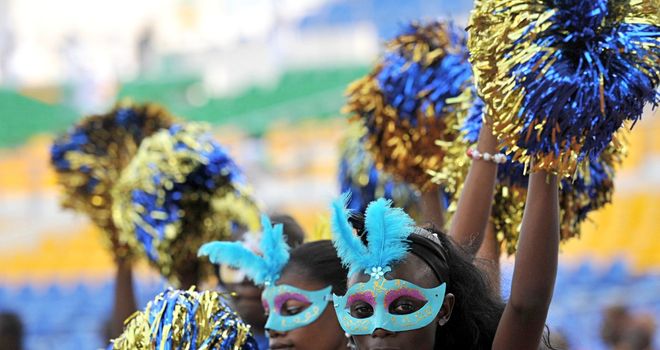 First place in Group C is on the line when co-hosts Gabon clash with Tunisia in the Africa Cup of Nations on Tuesday night in Franceville.
Both sides won their opening two encounters to have a 100% record going into the final action of the opening round.
Striker Pierre-Emerick Aubameyang has been a revelation and his partnership with Daniel Cousin has been key.
Gabon however have a superior goal difference, which means that a draw against Tunisia will still be enough to see them through as the top-placed side from Group C.
The Black Panthers go into Tuesday's game on the back of a morale-boosting and thrilling 3-2 win over Morocco, a game considered to be amongst the best in the tournament thus far.
Coach Gernot Rohr was thrilled with the mental strength his side showed to secure maximum points against the North Africans.
"When you concede a goal for 2-2 in the 92nd minute and then find the energy for a third goal, it is wonderful," he said.
"I knew they had character. They are not always easy because they have strong character but when you want to have success you have to have players with strong character."
Rohr feels it's imperative that his side get a positive result against the Carthage Eagles as this will ensure a home game in the Gabon capital of Libreville in the quarter-finals, rather than having to play in Equatorial Guinea.
"We would like to finish first in the group because when we finish first we can play in Libreville, in this wonderful stadium with this fantastic crowd," Rohr said.
"And I hope we can be first because then we can stay in Gabon. If we are second it's possible that we'd play a semi-final in Equatorial Guinea.
"It will be a difficult game against Tunisia. They have two victories, too. If there's a draw we'd be first because we have a better goal difference. We play to win. So let's play a good game."
The Carthage Eagles' less-than-inspiring form in qualification meant they were not expected to do much in the tournament.
But victories over Morocco and Niger have guaranteed their place in the quarter-finals.
Now it's all a question of whether they could advance as the group winners, or as runners-up.
Tunisia, it appears, have not placed as much emphasis on winning the game - there have been reports that coach Sami Trabelsi could rest some of his big players against Gabon.
Zouheir Dhaouadi, Mejdi Traoui, Khaled Korbi and Aymen Mathlouthi are some of the players that may be rested for this final group encounter.
There are also concern over the fitness of goalkeeper Mathlouthi.
It is most likely that the team that finishes as runners-up will face Ghana in the last eight, unless Guinea are able to defeat the Black Stars in Wednesday night's Group D encounter.