Hannover held at home
Hannover lost their 100% home record, and another striker, as Hertha Berlin came from behind to grab a 1-1 draw.
Last Updated: 05/10/13 5:47pm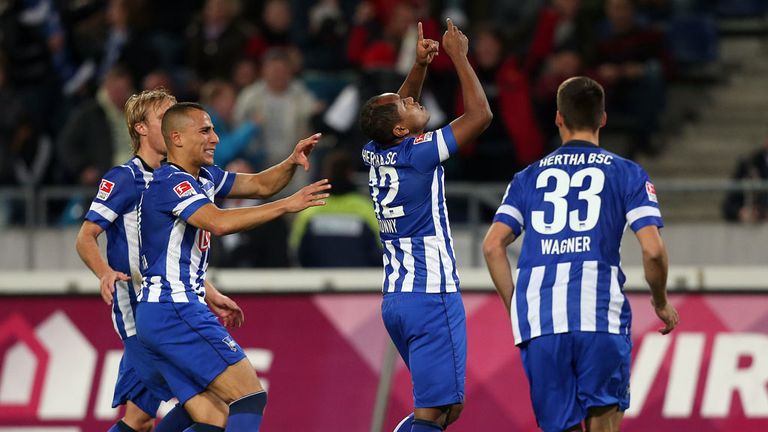 Hannover lost their 100% home record, and another striker, as Hertha Berlin came from behind to grab a point at the Niedersachsenstadion.
Christian Schulz gave Hannover, who had won their previous four home games this season, the lead in the 24th minute, but things took a turn for the worse on the stroke of half-time when they lost Didier Ya Konan to injury.
Hertha fancied their chances of levelling and, after a spell of sustained pressure, they found it through Ronny's free-kick 10 minutes from time.
Hannover's home form has kept them in the frame at the top of the table and it looked like they were going to make it five wins out of five in front of their home fans when Schulz took aim from the edge of the penalty area and sent a low shot through the legs of Fabian Lustenberger and past Thomas Kraft.
The hosts missed another good chance in the first half when Szabolcs Huszti's pass fell in front of Artur Sobiech, whose two quick-fire touches on the stretch sent the ball tamely towards goal.
Hannover fans will have wished the half-time whistle had come just a few seconds earlier, but not because Hertha risked levelling.
Just as the referee was putting the whistle to his mouth, striker Ya Konan was fouled near the touchline, requiring treatment which continued long after the remaining 21 players had returned to the warmth of the dressing room.
Unsurprisingly, Ya Konan did not reemerge for the second half, and considering Mame Diouf is also sidelined due to injury, the news that he was being taken to hospital for tests was anything but welcome.
Edgar Prib took his place, but the tone of the game soon altered with Hertha taking charge.
Adrian Ramos teed up Anis Ben-Hatira just before the hour mark, but he struck the outside of the far post with his shot from 12 yards out.
Ramos then missed an even better chance as Hertha looked for an equaliser. He was given not only acres of room, but plenty of time to pick his corner from even closer range than Ben-Hatira, but he placed his shot glaringly wide of the left post.
Their pressure was rewarded in the 81st minute when Ronny drilled his free-kick through the wall and accurately into the top left-hand corner of Ron-Robert Zieler's goal.
Hannover still had the chance to snatch victory in the last minute, but Kraft turned Sobiech's header over the crossbar with a fine one-handed save.