Birmingham manager Lee Clark slams red card in their 3-1 win at Huddersfield
Lee Clark bemoaned the referee's decisions in Birmingham's 3-1 win at Huddersfield, while Mark Robins was disappointed.
Last Updated: 09/11/13 7:10pm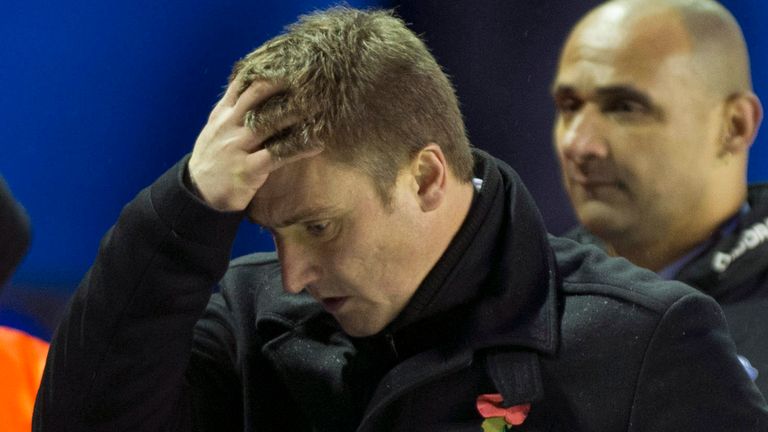 Defender Bartley scored twice in the second half to earn Blues their first win in six matches at Huddersfield before being sent off for his celebrations in the Sky Bet Championship clash at the John Smith's Stadium.
Birmingham manager Clark criticised the dismissal although he acknowledged the referee had little choice given the laws of the game.
Clark said: "Football is an emotional game.
"Kyle hasn't enticed the Huddersfield fans. He has gone to celebrate with his own fans and common-sense should prevail.
"Probably under the rules the referee had no option but you have to be allowed to celebrate. That's what the fans want to see."
Defender Bartley, on a season-long loan from Swansea City, struck twice with headers from set-pieces in the second half.
He had been booked for a foul on Danny Ward in the first half and then saw red when he stepped over the hoardings behind the away goal.
Bartley headed home Jesse Lingard's free-kick with nine minutes left and rushed to celebrate with the City fans.
Replays showed Bartley take one step over the advertising hoardings and thump his chest once in front of his own fans.
Referee Gavin Ward then came over and booked him with Bartley laughing in disbelief.
He then pulled off his shirt and walked down the tunnel.
Clark was also furious the referee disallowed what he claimed was a perfectly good 'goal' from Nikola Zigic.
"It was not offside," said Clark. "It's just madness. Thankfully it has not cost us the game."
Zigic opened the scoring in the 11th minute after Lee Novak's shot was parried.
Anthony Gerrard headed the equaliser from an Adam Hammill free-kick 20 minutes later.
Bartley then headed in Lingard's corner on 66 minutes and sealed victory heading home Lingard's free-kick in the 81st minute.
Huddersfield boss Mark Robins could not explain his side's showing and said: "It was more than poor, it was abject.
"Our performance has dropped way below what we expect and we should be picking up points against sides in the bottom three.
"For whatever reason the players decided not to perform today."
Robins revealed that skipper Peter Clarke, who went off after just seven minutes, had suffered medial ligament damage and could be out four to eight weeks.
"The injury probably set the tone for us," added Robins. "It's a costly injury."
Robins was also angry that two set-piece goals proved decisive and said: "We gifted them two goals.
"We have run out of ideas and all the work we have done on the training ground has been left on the training ground.
"It was just a bad day at the office."