World Cup qualifier: Alberto Giladino heads Italy to victory over Bulgaria
Alberto Gilardino edged Italy closer to a place in the World Cup finals as his goal earned a 1-0 win over Bulgaria.
Last Updated: 06/09/13 10:51pm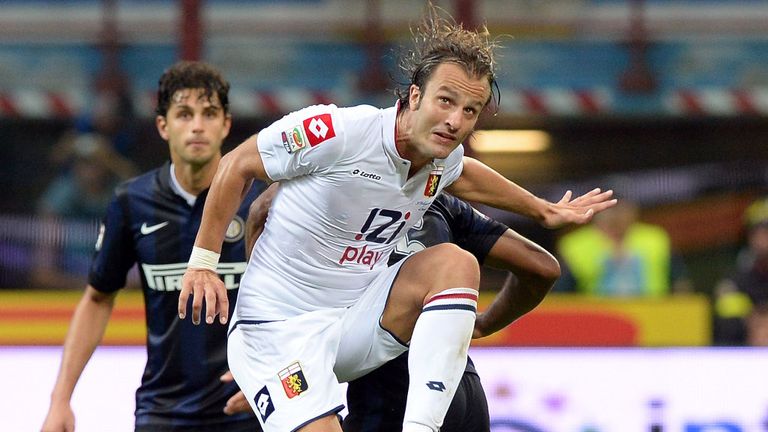 Italy had gone into the game needing two wins from four remaining matches and victory put them seven points clear of nearest challengers Bulgaria in Group B.
With third-placed Czech Republic losing 2-1 at home to Armenia, Gilardino's goal not only gave Italy a narrow win in Palermo, it also edged them closer to a place in next summer's World Cup.
Italy had gone into the game at the Renzo Barbera as leaders of Group B and came out 1-0 winners thanks to Gilardino's goal towards the end of the first half.
Italy signalled their intent in the first minute when Gilardino shot from the edge of the area but Bulgaria keeper Nikolay Mihailov was able to make a comfortable save.
The home side continued to exert pressure, with Gilardino at the centre of most of their best moves, but did not force the first goal inside the opening half hour.
The visitors created their first opening after 17 minutes but when it fell to Aleksandar Tonev he fired wide from 30 yards as Bulgaria failed to create much against the group leaders.
Andrea Pirlo and Daniele De Rossi both shot from distance as Italy tried to prise open a resolute Bulgaria defence and with 25 minutes gone Lorenzo Insigne shot from 25 yards out but Mihailov got down to tip his effort round the post.
Italy made the breakthrough their play deserved with 37 minutes gone when Gilardino headed them in front.
Antonio Candreva crossed from the left and Gilardino was well placed to pick his spot and head in from close range.
Italy forced a series of free-kicks as the half wore on but failed to find a second goal and they nearly paid for not being able to increase their lead.
A minute into the second half Bulgaria's Ivelin Popov shot from close in but the ever reliable Gianluigi Buffon came to his side's rescue as he parried the effort.
Insigne was presented with two chances early in the second half but fired over the bar and then saw Mihailov make a comfortable save from his next effort.
Bulgaria forced successive corners but when the ball broke from the second Dimitar Rangelov's shot was off target.
With 20 minutes to go Bulgaria's Todor Nedelev shot off target as the visitors began to come more into the game.
The momentum swung the other way but Italy failed to convert chances from two Pirlo corners as the home side held a slender advantage.
Candreva tried his luck with a shot from the edge of the area but did not find the target and then Popov saw his effort from further out blocked by Italy's Giorgio Chiellini.
With six minutes remaining the only down side for Italy came when Emanuele Giaccherini was booked for a foul on Todor Nedelev.
Italy continued to press for a second goal but they had already done enough with Gilardino's goal to secure victory.