Levante midfielder Iborra wants to go the distance in the Europa League
Levante face Rubin Kazan with midfielder Vicente Iborra keen to make the most of their Europa League campaign.
Last Updated: 06/03/13 10:16pm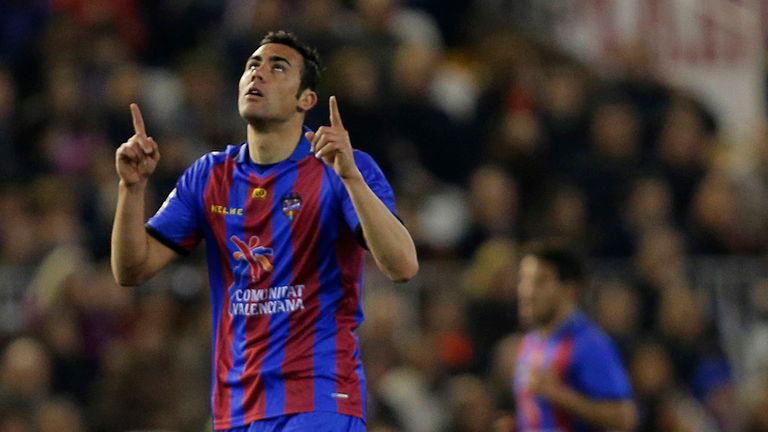 Levante midfielder Vicente Iborra wants to make the most of the club's debut Europa League campaign and gain an advantage in the round-of-16 first leg against Rubin Kazan.
Levante, who are currently 11th in Spain's Primera Division, have yet to lose at home in five matches in European action and will hope to continue that form against Rubin, who knocked out holders Atletico Madrid in the last round.
The Spanish side progressed to the last 16 after a 4-0 aggregate win over Olympiacos, and Iborra knows the first leg at home gives them the chance to stamp their authority on the Russian side.
"Our goal is to get as far as possible," Iborra told the club's official website.
"We are not favourites. It is our first participation in Europe and they have much more experience than us.
"We do not know when we will return to play in Europe. Hopefully it will be very soon.
"We must seize this opportunity."
Iborra also hopes Levante will be able to maximise their chances against Rubin as they have some inside information, thanks to former Newcastle strike Obafemi Martins.
Martins played for the Russian Premier League side before a season-long loan spell at Birmingham and his subsequent switch to Levante.
Iborra said: "He (Martins) told us how to play and how we can hurt them. He told us that is a very physical team, very well built and leverages the opportunities created in attack."
However, Iborra denied that Martins' admission that he would like to leave Levante has caused tension in the side ahead of the clash.
"It is true that we would like to forget about these issues," the midfielder said.
"We have to isolate ourselves from all that and focus on Rubin Kazan because we cannot afford to be distracted."
Rubin have not lost in four away games but they will have to contend without defender Cesar Navas for both legs of their tie with Levante after he was banned for three games following a red card against Atletico.
Rubin were beaten 1-0 by Atletico at home in their last match, but their two goals from the first leg was enough to see them through to the last 16.
They have spent a few days preparing for their Europa League clash against Levante in a warm weather training camp in Turkey.