Malaga v AC Milan preview
Joaquin Sanchez has classed Wednesday night's Champions League visit of AC Milan as the biggest match in Malaga's club's history.
Last Updated: 24/10/12 9:21am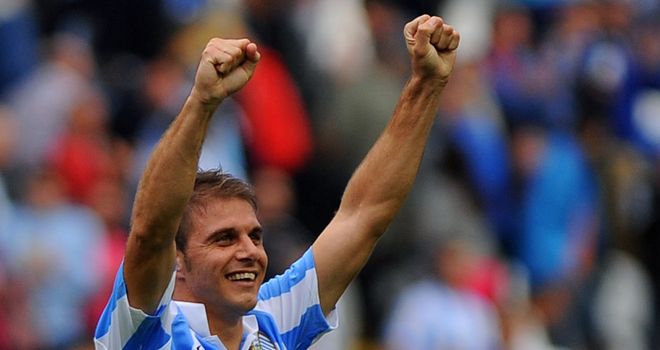 Joaquin Sanchez has classed Wednesday night's Champions League visit of AC Milan as the biggest match in Malaga's club's history.
Malaga have enjoyed a magnificent start to life in their debut Champions League campaign and successive 3-0 wins over and has left them clear at the top of Group C.
Another victory over second-placed Milan would see them open up a five-point lead and leave Manuel Pellegrini's men on the verge of the last 16 with a nine-point haul.
In last season's Champions League, five teams progressed through from the group stages with nine points or less, while only four of the 16 qualifiers finished with more than 11 points.
Crucial
"This game will be crucial because, if we win, the three points would practically secure us a place in the last 16," Joaquin told Diario Sur.
"It's the most important assignment in Malaga's history. We hope it will be an attractive and entertaining game, and that we can give another victory to our fans."
Malaga head into the match on the back of a fine start to the season both in Europe and domestically, where they lie third in La Liga with 17 points from eight games.
Milan, in contrast, have had all sorts of troubles so far this campaign.
Saturday's 3-2 defeat to Lazio was their fifth loss in eight Serie A matches and left them level on seven points with third-bottom Pescara.
In Europe, Massimiliano Allegri's men were held to a disappointing goalless draw at home by Anderlecht in their first Group C match but then edged a five-goal thriller at Zenit to move on to four points, two behind Malaga.
Much has been made of Milan's problems but Joaquin insists his side are treating the seven-time European champions with respect.
Slump
"It's continually being said that they are in a slump, but we aren't thinking like that, we're thinking that they are still Milan, with great players," the veteran winger said.
"It's a team with a lot of experience, which is great for these games. It's going to be very difficult, but not impossible. We've been playing at a high level in the Champions League and I think they're going to have a lot of respect for us."
He added: "We aren't afraid of Milan, not at all. We know we can compete against any team if we go out with the same sacrifice, commitment and attitude that we've been showing. If we don't go out with this mentality we won't only suffer against Milan, but against any opponent."
Milan goalkeeper Marco Amelia, who made his first appearance of the season against Lazio, also knows the importance of Wednesday's game for the Italian giants.
He said in La Gazzetta dello Sport: "We absolutely have to get a result at Malaga and get through to the next round of the Champions League, as well as getting our act together at home.
"I don't think the team is scared, but maybe they're lacking a bit of confidence."