City singing in the rain
Manchester City picked up a 2-0 pre-season friendly win over Premier League rivals Arsenal amid a torrential downpour in Beijing.
Last Updated: 27/07/12 3:40pm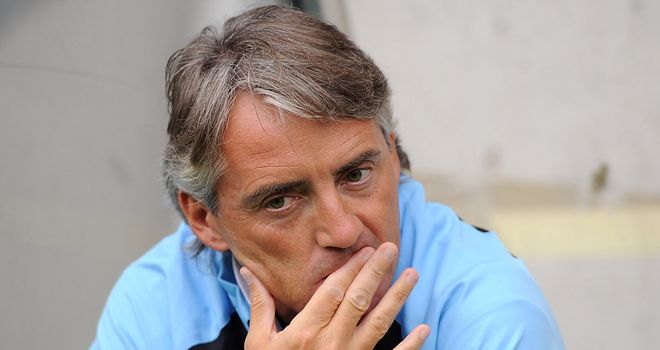 Two goals in three minutes at the end of the first half gave Manchester City a 2-0 pre-season friendly win over Premier League rivals Arsenal amid a torrential downpour in Beijing.
Roberto Mancini's defending top-flight champions picked up the victory in front of more than 50,000 spectators at the famous Bird's Nest stadium courtesy of goals from Pablo Zabaleta and Yaya Toure.
Defensive errors cost Arsenal dear in the 41st and 44th minute and while Arsene Wenger's Gunners dominated the second half, they could not find a goal.
Mancini may be concerned about the state of his City squad but on the evidence of the glamour friendly, Wenger has more to worry about.
City were lacking their Euro 2012 contingent but still overcame an Arsenal side featuring most of their senior players, although Robin van Persie was an obvious absentee, having been left at home amid massive speculation about his future.
Van Persie has refused to sign a contract extension with the Gunners as he harbours serious reservations about their ability to compete with City and the Premier League's big guns.
Significance
And the calm manner Mancini's men swept their opponents aside in the Bird's Nest stadium, which four years ago was playing host to the opening ceremony of the Olympic Games, underlined Van Persie's point.
Of course, Wenger will play down the significance of the outcome.
It is true Arsenal are not as far advanced in their preparations for the new campaign as City and that Alex Oxlade-Chamberlain's introduction triggered a much-improved second-half showing.
However, there did appear to be a gulf in class at times as the rain swept into the Chinese capital, and no obvious sign that a 19-point gap between the teams last season is likely to be closed to any great extent.
With Toure taking command and 20-year-old Israeli Nir Biton impressing, Arsenal were restricted to a couple of decent Theo Walcott efforts before the interval.
City had to wait until the 41st minute to get their opener, as Zabaleta strode up on the overlap and drove home Toure's inviting pass.
Fizzing
Toure scored his side's second on their next attack as Sergio Aguero turned Aleksandar Kolarov's cross into the path of the Ivorian, who stabbed home from close range.
Wenger introduced Oxlade-Chamberlain at the break and the England man immediately made an impact, hitting both posts with a fizzing shot that eventually bounced away to safety after Gervinho had gone close.
With both sides making changes, the contest began to lose its fluency.
Content to play on the counter-attack, City should have grabbed a third when Carlos Tevez squared to Aguero.
The South American chipped over Lukasz Fabianski but the ball dropped wide.
Oxlade-Chamberlain flashed another shot narrowly wide near the end.