Joey Barton poised to make his Ligue 1 debut for Marseille as they host Lille
English midfielder Joey Barton is poised to make his Ligue 1 debut for Marseille as they host Lille on Sunday.
Last Updated: 24/11/12 12:57pm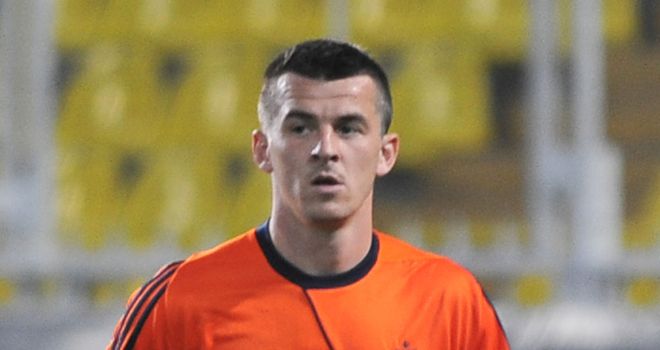 English midfielder Joey Barton is poised to make his Ligue 1 debut for Marseille as the club look to get their season back on track this weekend.
Barton, on loan from QPR, has so far been restricted to appearing in the Europa League due to a domestic suspension predating his arrival in France.
The English Football Association hit Barton with a 12-game ban after he was sent off and then confronted two Manchester City players in the final Premier League game of last season.
With the punishment now served, Barton is hoping to feature as Marseille attempt to end a four-match winless run against Lille at the Stade Velodrome.
Barton told the club's website, OM.net: "I came here in controversial circumstances from England and I intend to do my utmost to help this football club as much as I can.
"It is a football club that has supported me through a turbulent spell in my career.
"I hope to show some of that affection with performances. I play with my heart on my sleeve and for what I lack in skill and taking people on, I make up for - I like to believe - in effort and determination.
"I've worked really, really hard but it'll take four to six games before I'm 100 per cent."
Marseille, who set the Ligue 1 pace earlier in the season, have slipped after winning just one of their last six games.
That victory came at Ajaccio on November 4 and since then they have failed to win in four games in all competitions and they were dumped out of the Europa League after losing at Fenerbahce in midweek.
They still have an unbeaten home record to protect in Ligue 1, but Lille, despite a slow start and a disappointing Champions League effort, are just three points behind them after three successive wins.
Lille coach Rudi Garcia also hopes to take encouragement from the performance of his side in midweek.
Even though it did not prevent them being eliminated from the Champions League, a side featuring a handful of youngsters won 2-0 at BATE Borisov.
Garcia told the club's website, www.losc.fr: "I knew the youngsters would be audacious, carefree and enthusiastic.
"They threw themselves into it, well-supported by the more experienced players.
"From this point of view, it was an excellent evening and the ideal way to prepare for the trip to Marseille.
"We have so many challenges coming up between now and the end of December that it was important to test the depth of the squad."