Metalist Kharkiv too good as they beat Rosenborg in Europa League Group K
Metalist Kharkiv remained level on points at the top of Group K after a 3-1 victory over Rosenborg in the Europa League.
Last Updated: 08/11/12 10:20pm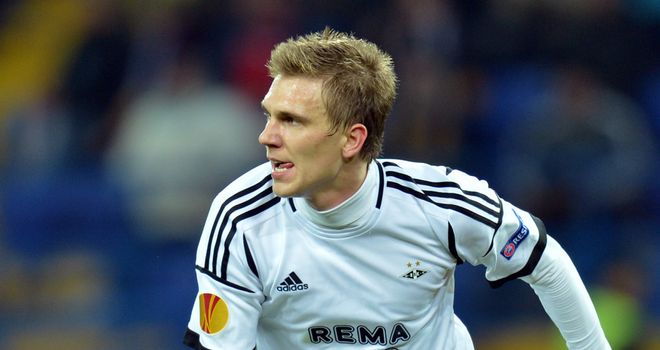 Freda Taison had given the hosts an ideal start with a goal in the fourth minute and they were clearly the better side in the first half.
However, Rosenborg equalised through Borek Dockal three minutes before half-time.
It was a far more even contest after the break but the Ukrainians edged ahead through Cleiton Xavier before Juan Manuel Torres sealed victory in injury time.
It took the hosts little time to go ahead. Vinicius Fininho's pass from the left found Taison and the striker directed a right-footed volley into the top left-hand corner of the goal.
Cristian Villagra's shot was caught by Alexander Lund Hansen as the Ukrainians pressed again before Steffen Iversen finally had a shot for the visitors, his 20-yard effort going wide.
The hosts almost doubled their lead just after the half-hour when Jonathan Cristaldo's left-footed shot was tipped round the post by Lund Hansen.
But against the odds the Norwegian side pulled level in the 42nd minute.
Daniel Fredheim Holm's pass from the right found Dockal in the centre of the penalty area and he slotted the ball into the middle of the goal.
The hosts almost at once regained the lead, Cristaldo's right-footed shot from close range saved with his feet by Lund Hansen but it was all square at the break.
The visitors had two long-range shots which failed to test the keeper before Lund Hansen was again called into action when he parried Bonfim Marlos' left-footed strike.
But it was a far more even contest now, Dockal having an effort blocked before Edmar's header from the centre of the area was blocked by Rosenborg defender Tore Reginiussen.
Dockal was prominent and he forced a save from Oleksandr Goryainov following a right-footed shot - however, the hosts reclaimed the lead little more than a minute later.
Taison's pass from the left found Xavier and he slotted the ball into the bottom left of the goal. And Torres then wrapped up victory when he fired in a left-footed shot in injury time.